Shimane has a variety of cultural, ritual and unique events. Find out what's happening in Shimane and get yourself involved. Here is the annual calendar for major events in Shimane.
January

Kiccho Shinji
Ritual festival around Izumo Taisha Grand Shrine to celebrate New Year
(January 3rd every year : East area)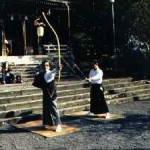 Mononobe Jinja Shrine Busha-sai (archery)
Ritual archery of exorcism held at the shrine known for luck in battles and for victory
(January 7th every year : Central area)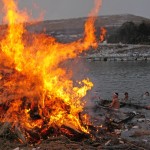 Imazu Tondo Festival
Festival to burn ornaments for New Year's Day with hope of good health in the coming year
(January 15th every year : Islands area)
February


Matsue "Dan-Dan" Food Festival
Snow crab, soba buckwheat noodle, shijimi clams, all the local delicacies gather in Matsue!
(During February : East area)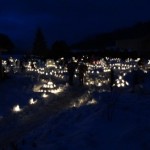 Sanbe Romantic Candle Night
Be charmed by gentle candle lights placed in thousands of snow huts
(early in February : Central area)
March


The season of sakura and flowers!
Click here for more information.
April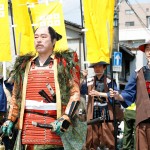 Matsue Samurai Procession
People dressed as samurais or princesses march through the castle town in blooming cherry blossoms.
(early in April : East area)
Washibara-hachimangu Shrine Yabusame ritual
Horseback archery, which is one of the Tsuwano's premier annual events
(second Sunday of April every year : West area)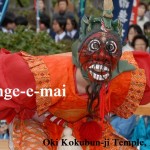 Oki Kokubun-ji Temple Renge-e-mai Dance
The Important Intangible Folk Cultural Property of Japan
(April 21st every year : Islands area)
May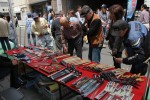 Yasugi Cutlery Festival
Learn about knife in the city of steel, Yasugi
(early in May : East area)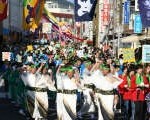 Shigesa Bushi Dance Parade
Let's dance to Oki's traditional folk, Shigesa Bushi
(early in May : Islands area)
June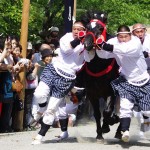 Tamawakasu-no-mikoto Shrine Festival, Goree-Furyuu
Horses carrying the gods gallop up to the shrine entrance
(June 5th every year : Islands area)
July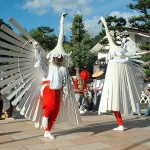 Sagimai (heron dance) ritual in Tsuwano
Shimane's Important Intangible Cultural Property with over 400 years of history
(July 20th and 27th every year : West area)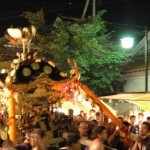 Gion Festival in Hirose
A Mikoshi (portable shrine) and Kanto (lantern pole with a lot of lanterns) parade through the town with fireworks up in sky
(July 21st every year : East area)
August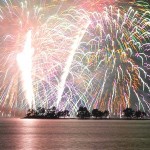 Matsue Suigo-sai Festival
Ten thousands of fireworks above Lake Shinji
(middle of August : East area)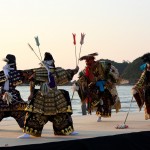 Umi Kagura
Kagura (shinto ritual dance) performed on the beach
(middle of August : Central area)
Shara-bune Spirit Boat
Farewell festival for ancestors by the decorated boat
(August 16th every year : Islands area)
September


Oki Traditional Bull Fighting Contest
Most honorable among several bull fights in Islands area
(September 1st every year : Islands area)
Sada Shin Noh at Sada Jinja Shrine
Sacred dance registered as UNESCO Intangible Cultural Heritage of Humanity
(September 24 and 25 every year : East area)
October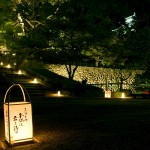 Matsue Suitouro (Water and Lantern Festival)
Light and shadow create the fantastic sceneries in the city of water, Matsue
(During October : East area)
Matsue Grand Tea Ceremony
Feel the authentic tea ceremony atmosphere in one of the three meccas of Japanese tea
(early in October : East area)
Imoni to Jizake no kai (Taro potatoes and Local sake Festival)
Feed yourself with autumn delicacy of Tsuwano, taro potatoes with local sake
(middle of October : West area)
November


Gakuenji Temple Autumn/Fall Colour Festival
Walk through red tunnel above the approach way on a red carpet made by fallen leaves
(from middle to end of November : East area)
Japan Iwami Kagura Contest
Feel the dynamism of Kagura (shinto ritual dance)
(Middle of November : West area)
December


Miho Jinja Shrine Morotabune Shinji (shinto ritual)
Shinto ritual representing the scene of the ancient myths
(December 3rd every year : East area)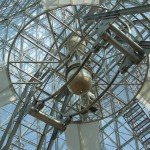 New Year Countdown at Nima Sand Museum
Turn over the world's biggest hourglass to clock another one year
(December 31st every year : Central area)