Taikodani Inari Shrine
Taikodani Inari Shrine, which is located in Tsuwano, on the western side of Shimane Prefecture, is one of the five most important inari shrines in Japan. In 1773, the 7th feudal lord, Lord Norisada Kamei, invited the deity's spirit from Fushimi Inari Shrine in Kyoto and built the shrine on the top of Taikodani, facing kimon* (the north-eastern direction) of Tsuwano Castle to pray for peace and security of the castle as well as for the happiness for Tsuwano's citizens.
* In Japan, kimon (literally "demon's gate" in Japanese) is believed to be unlucky direction and enshrining deities on the direction is thought to keep evil spirits away.
At first, citizens were banned from visiting the shrine, until the abolition of feudalism in 1871. Since then, locals and tourists alike have enjoyed visiting the site. In 1969, a new shrine building was constructed, while old one has been preserved as Motomiya (former shrine building). Motomiya faces the castle, while the new shrine building faces the town of Tsuwano.
* The Tsuwano Castle was tored down after the abolition of feudalism, now only stone pavements and stone-walls are left at the castle ruins.
Approach way through the rows of torii gates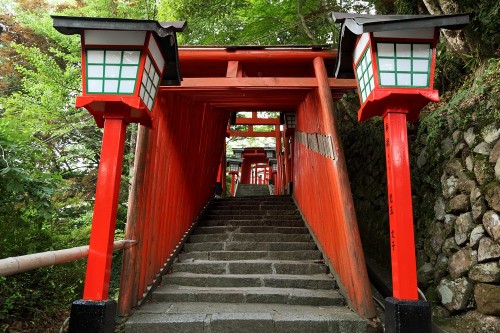 The approach way up to the shrine is lined by red tunnels like tori gates, visitors are captured by a mysterious atmosphere as they passing through. The number of the tori gates exceeds one thousand, and that of the stone steps on an approach is 273. Visitors can enjoy the view during the 15 minute-walking up to the shrine, or  also get to a parking next to the shrine building by car. It is highly recommended to go approach way to feel a sense of visiting a Japanese shinto shrine.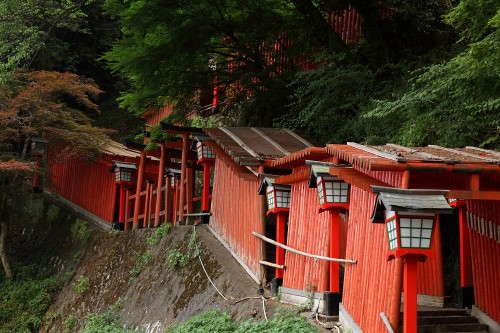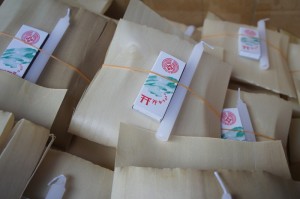 On the approach way, visitors purchase a set of deep fried tofu and a candle as an offering.
Why?
–You may have seen stone foxes at Japanese inari shrines, there are various theories and opinions on how foxes and inari shrines are related, but it is believed that foxes are familiar of the god of Inari shrine. And deep fried tofu is known as the fox's favorite.
Deities enshrined to this shrine are believed to grant prosperous business, fulfillment of wishes, warding off evil and bringing in good fortune. More than a million people visit the shrine every year.
Annual Events, Festivals
Jan. 1st (0:00~) – 歳旦歳 Saitan Sai
Feb. 3rd (10:00~) – 節分祭 Setsubun Sai
May 15th (10:00~) – 春季大祭 Shunki Taisai (Spring Festival)
Jun. 30th (16:00~) – 夏越大祓式 Natsu-koshi-oharae
Nov. 15th (10:00~) – 例祭 Reisai (Annual Festival)
Nov. 16th (11:00~) – 秋季大祭 Shuki Taiasi (Autumn Festival)
Nov. 23th (10:00~) – 新嘗祭 Niname Sai
Dec. 8th (13:00~) – 火焚祭 Hitaki Sai
Taikodani Inari Shrine
Click here to see details.