About The tea culture of Matsue
Matsue, the capital city of Shimane Prefecture, is known for its tea culture, which places importance on the tea ceremony and Japanese confectionery. The consumption rate of tea in the city is said to be as much as five times the national average. Matsue is also regarded as one of the top three Wagashi (Japanese confectionery) consuming cities, which is a type of sweet usually enjoyed with Japanese tea. Wagashi produced in Matsue is famous for its delicate and beautiful appearance.

Matsue developed as a castle town during the middle ages under Lord Harusato Matsudaira, who had a keen appreciation of tea culture and the tea ceremony. Thanks to his patronage, the culture of Japanese confectionery and the tea ceremony spread amongst the people of Matsue.
During the Edo Period Lord Masudaira developed his own style of tea ceremony called "Fumai-ryu", a name which comes the nickname he was affectionately known to by his friends; Load Fumai. He was famed as a highly cultured individual, particularly with regard to tea ceremony. It is said that his interested in the ceremony had an effect on how he ruled. It is believed that he carried out the tea ceremony in the same way as ordinary citizens did, in addition to the aforementioned new 'Fumai'' style of tea ceremony
In Matsue, the drinking of green tea and powdered green tea is a part of daily life. Guests are always welcomed warmly with tea. We encourage you to try traditional confectionery and green tea during your stay.
EVENT : Matsue Grand Tea Ceremony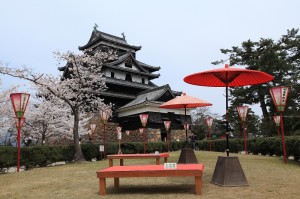 Every year in the beginning of October, the Matsue Grand Tea Ceremony takes place in Matsue. The ceremony, which is known as one of the best three tea ceremony parties in Japan, marked the 31st anniversary in 2014. many people dressed up in Kimono About ten schools of tea ceremony, and not only fanciers of sado, many people come to enjoy the Japanese tea, Japanese confectioneries, tea ceremonies and traditions.
[Venue : Matsue Castle Grounds, Matsue Historical Museum]