Washibara-hachimangu Shrine and Yabusame ritual
The Washibara Hachimangu Shrine is famous for its annual horseback archery ritual. Held each April, the event is a spectacular display of skill. The shrine is also well-known for its stunning beauty in Autumn, when the shrine grounds become enveloped in the golden colors of the season.

Washibara-hachimangu Shrine is located in Tsuwano, on the eastern side of Shimane.
  The first load of Tsuwano Castle, Yoshiimi Yoriyuki invited the deity to Tsuwano from Kamakura Tsuruoka–hachimangu Shrine in Kanagawa Prefecture, Japan, and built Washibara-hachimangu as a guardian shrine for Tsuwano Castle.
The current main building (called 'Honden' in Japan) and the Romon Gate were  rebuilt in 1568 and designated as National Important Cultural Properties for passing on the architectural style since the late 16th Century.

On the second Sunday of April each year, a traditional ceremony involving horseback archery is conducted in the shrine's grounds. It is one of the Tsuwano's premier events. In front of the shrine, there is a 270 meter-long horseback archery course built for this purpose.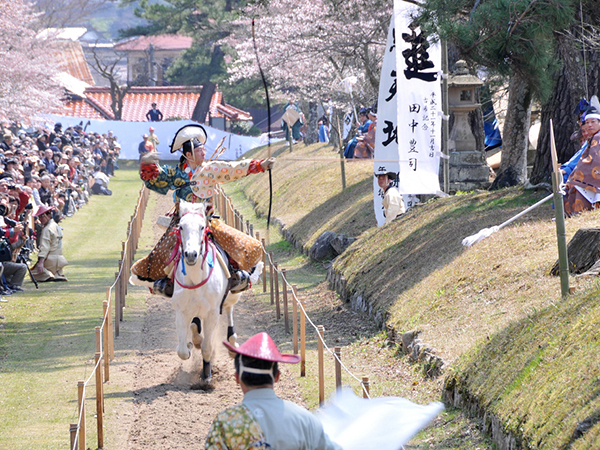 The archer takes aim at three targets from a galloping horse, while shouting "In-! yo !" (This refers to the principles of Yin and Yang; the positive and negative, in Japanese). The sound of the target echoes and, the audience shouts with joy. Members of the audience can purchase fragments of the targets as a good-luck charm.
Access : Nearlest JR Station : Tsuwano
Timetables & Route finder : JR WEST / JOURDAN
(Fill in "Tsuwano " on the destination station blank.)
*From JR Tsuwano Station, 10 minutes  to 'Washibara Park' by Iwami Kotsu bus (bound for Nagano)