Gassan Toda Castle, the best mountain-top castle

This Film was made by Yasugi City Tourism Association
The Gassan Toda Castle was chosen as the best mountain-top castle in Japan.
Rekishi-jin' is a Japanese magazine that focuses on Japanese history (published by KK Best Sellers).
In the April number, the magazine did a feature on Japanese castles and chose Gassan-Toda Castle in Yasugi City, Shimane Prefecture as the best fortress in the Age of Civil Wars.
Mountain castles ('Yamajiro' in Japanese) were constructed to take advantage of the natural defense resources, such as mountain streams, valleys, and steep trails.
With the main castle building located at the top of Mt Gassan, Toda Castle was once called the impregnable fortress for its strategic location preventing enemies from invasion. Its north, south and west sides are surrounded by valleys which co coupled with the I-nashi River that flows on the east-side of the mountain, constitute a natural moat, providing the basis for a military defense line.
The castle, which is said to have been built in the 12th century, prospered in the early 16th century under the Amago clan. However, attacks by the Mo-ri clans brought a violent crisis. The castle was besieged for eighteen months, and was eventually starved into surrender in 1566.

You may wonder how a conquered castle became known as an impregnable fortress, however, the castle itself survived numbers of other military conflicts, demonstrating its high leveled defense function.
After the several governors, the castle's history came to an end when the last Lord moved to Matsue Castle, in Matsue City.
Now, there are only ruins left on Mt.Gassan, but there are still remains of what was once a flourishing castle town.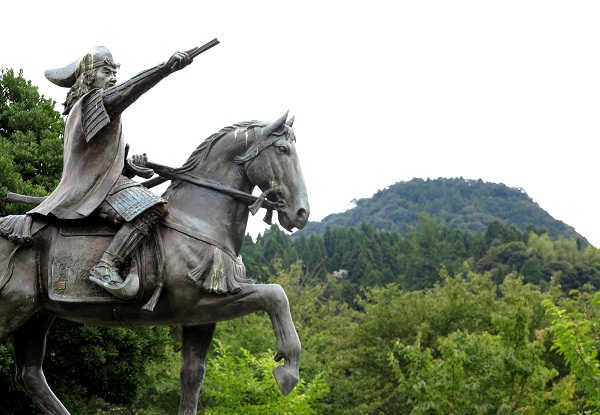 Gassan Toda Castle [map]
Access :
10 min by local bus to 'Gassan Toda Castle' Bus Stop from JR Yasugi Sta.
Nearlest JR Station : Yasugi
Timetables and Route Finder : JR WEST / JOURDAN
(Fill in "Yasugi " on the destination station blank.)

View Larger Map