Hamada Model Course: Active Holiday
This model course focuses on outdoor activities and locations popular in west Shimane, such as beach activities, horse riding, snow parks and more. There is always something going on all year round, so check them out!
Day 1 – Option 1
START: JR Hashi station (train) or Hamada Higashi IC (San'in Express way)
Iwami Seaside Park
The park lies along the coast line, stretching over 5.5 km. You will find an auto camping ground, cabins, tennis courts and walkways in the woods here. It must be one of the best places in Shimane for enjoying a day out in natural surroundings. The neighboring playground, Aquas land, has many attractions and the 60m-long roller slide is especially popular.
Day 1 – Option 2 (winter activity)
START: Mizuho IC (Hamada Express way)
Mizuho Highland Ski Resort / Asahi Tengston Snow Park
Mizuho Highland Ski Resort is conveniently located 3 km away from Mizuho IC on Hamada Expressway. Its 3,600 m scenic trail goes through trees with rime.
Asahi Tengston Snow Park is located just 8 km from Mizuho IC and has 7 long trails to ski/snowboard. Do not miss the panoramic view from the top of the mountain.
Stay : Iwami Seaside Park's lodging, hotels around Hamada station or nereby Onsen area (Arifuku Onsen or Mimata Onsen)
Day 2

Among 10,000 sea creatures living at AQUAS, you will especially like the aquarium's stars: the beluga whales. Their lovely bubble performance was once shown in television commercial and has become even more popular since then. The there are 4 scheduled performances a day (6 shows on weekends), so you cannot miss it! You can also enjoy penguins flying over your head while you walk under their tank.

Kanagi Western Horse Riding Park
Located just 3 km away from Kanagi IC on Hamada Express Way, Kanagi Western Horse Riding Park provides you the opportunity to engage in various activities with horses, such as riding and feeding them. The park's restaurant offers an all-you-can-eat barbecue while you enjoy viewing horses. Play equipment are also available so that people of all generations can have fun!

Iwami Kagura (Shinto ritual dance)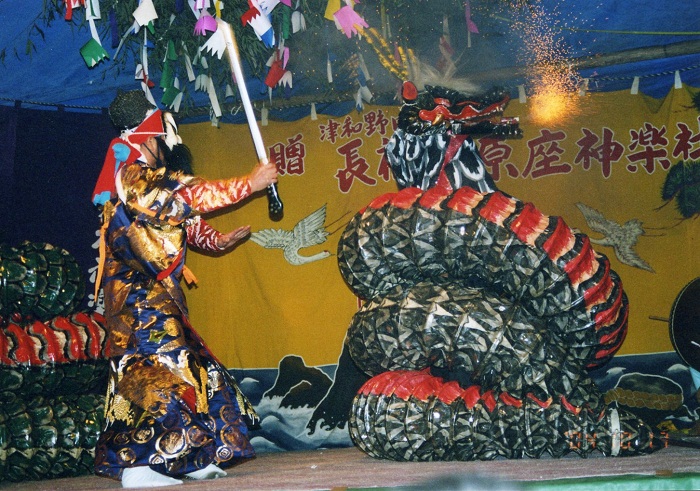 West Shimane, also known as the Iwami area, is said to be the birthplace of Kagura (Shinto ritual dance). The dance was originally performed for the enjoyment and appeasement of the gods, but now it is mostly practiced as a type of folk entertainment. There are more than 30 different dance performances. The most famous Kagura is the one depicting the battle between a deity and an eight-headed serpent called "Orochi".

View Western Shimane in a larger map