The season of snow crab has just come!
Did you know that snow crab fishing is allowed only for 4 months in a year? More specifically, fishing male crab is permitted for the period from November 6 to March 20, while female crab only from November 6 to January 10. The snow crab is found in the deepest and coldest waters in the Sea of Japan. Because Shimane lies on the Sea of Japan coast, crabs are kept alive until they are brought into markets and restaurants. That is why you must taste fresh crabs while in Shimane! Eat your fill by those cooking examples.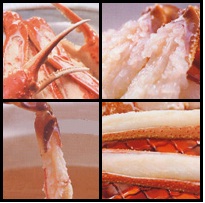 Boil … most common cooking yet best way to taste crab flavour as it is Shabu-Shabu (kani shabu) … dip into the hot-pot, wait until it floats and then dip into the provided sauce You can also eat kani sashi (raw sashimi crab), grilled crab and more!
While male snow crab is bigger in size and is widely traded all around Japan, smaller female snow crab is locally enjoyed. Some people prefer female crab meat because of its richer and more concentration of flavour with variety of textures, meat and egg. Taste both and enjoy the different flavour! When it becomes snow crab season, Crab House ("K
ani-goya
" in Japanese) will open for only a limited time in Matsue city, capital of Shimane, to present you with a feast of fresh crab and seafood. Select your preferred crab, put on the grill and enjoy cooking by yourself! Crab House opens on January 17 and closes on March 7, from 17:00 to 22:00 (opens between 11:00-14:00 for Sat, Sun and holidays) (Dates may change slightly every year).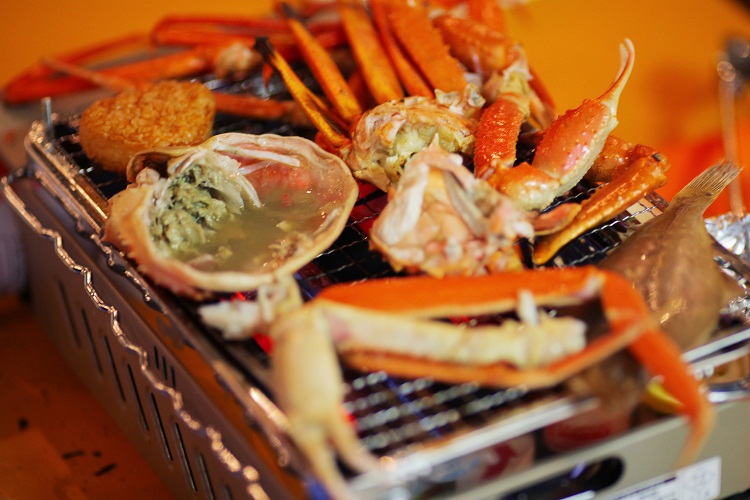 Snow crab is undoubtedly one of the must-eat seasonal delicacies. It is no wonder that tasting snow crab is good enough reason to visit Shimane ! Access to Crab House Address: 150-7 Higashiasahimachi, Matsue, Shimane (
map
) (10 min walk from JR Matsue station)