=Report= The Art of Making Sekishu-Banshi Japanese Paper
HOME
>
Experiences
> =Report= The Art of Making Sekishu-Banshi Japanese Paper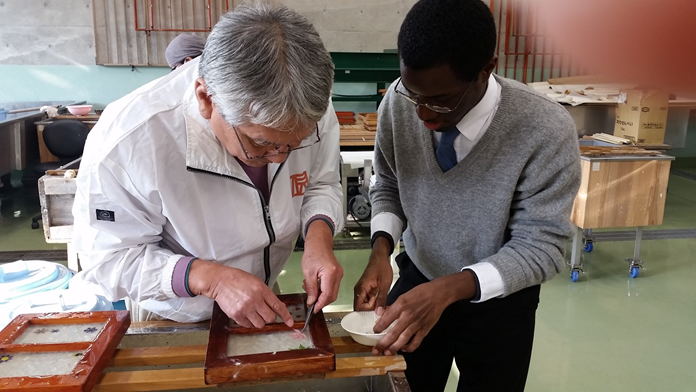 I was delighted to hear that I had the chance to go to Hamada-shi, Shimane and experience creating Sekishu Washi, or Sekishu Japanese paper. Sekishu is the name of the techniques and processes used for creating Japanese paper. There are other kinds of styles and process of making Japanese paper, and these vary by region. It was a rare opportunity to make Japanese paper, and I can honestly recommend trying it out for yourself to see what it is like first hand.  
When we entered the Sekishu Washi Center, the first thing I noticed was not Japanese paper, but various cloths, scrolls, and items from Bhutan. Apparently, this center has been working with people from Bhutan, exchanging trainees and in the process of teaching each other about their respective traditional crafts, they also engage in cultural exchange.
A little bit further inside the center is where the many Japanese paper products of the shop can be found. Along with products were exhibits and I was impressed by a Kagura Costume of Orochi, the deadly 8 headed 8 tailed serpent. The mask was incredibly intricate yet solid, and it was made of Japanese paper!
We watched a DVD detailing the Sekishu Japanese paper production process and then proceeded to make our own unique Japanese paper. Sekishu Japanese paper made by kozo is the most resilient type of Japanese paper in Japan. We made postcards and a larger sized half sheet of Japanese paper.  Each of us were able to pick and choose different decorations to customize our Japanese paper. Being able to express myself creatively while partaking in a tradition that has existed hundreds of years before I was even born was an exhilarating feeling.
I concentrated completely on the production process, moving the fluid in the wooden tools rhythmically and evenly. Then, the next step was pouring out the solution and then scooping more of it into the wooden tool. When pouring out the solution, the bark fibers that have been intertwined as a result of shaking the wooden tool are left behind forming a damp thin sheet.
It was hard to imagine that this paper solution, a mixture of water, shaved and moistened Kozo tree bark, and a thick goopy substance called tororo-aoi, could turn into Japanese paper. However, once I layered and mixed the bark fibers by repeatedly shaking the filled fluid in the wooden tool and pouring out the solution, what was left in the wooden tool began to look similar to the finished product, only damp and filled with moisture. What was left was to remove the stacked layers of bark fibers and dry them. The result was my very own Japanese paper with a unique design.
It was a very valuable and rare experience. Many Japanese people themselves have never made Japanese paper before. I had the opportunity to experience yet another part of Japanese craft culture and tradition. I would love to create Japanese paper again!  
Written by Sondey Olaseun
This web page introduces the remarks and comments written by CIR (Coordinator of International Relations) of Shimane Prefectural Government who tried Sekishu-Banshi Japanese Paper making.