Experience the UNESCO intangible cultural heritage : Japanese Paper Making
HOME
>
Experiences
> Experience the UNESCO intangible cultural heritage : Japanese Paper Making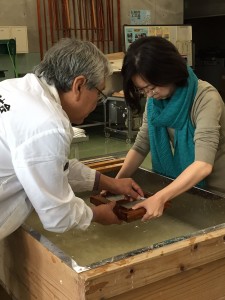 "Sekishu Banshi", which was recently designated as a UNESCO intangible cultural heritage, is one of the traditional crafts you can experience while in Shimane.
Sekishu Washi Kaikan (Sekishu Washi Center), located in Hamada, western Shimane provides you this invaluable opportunity to make Japanese paper by your own hands.
The whole process of making paper takes only 1 hour, so why don't you try making your own paper and bring it home as souvenir? There are other places famous for producing Japanese paper, but what makes here unique is they grow and produce all the materials in their area. Washi, especially Sekishu's one is very strong and resilient so that it will well preserve for more than 400 years!
Post Card (2 pieces)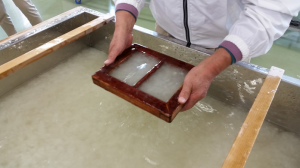 Fee : 500 JPY
You can make two pieces of post-card size paper at one time. Scoop the liquid and wait for water to fall. You can decorate them with putting some leaves, colored paper, and your favorite pictures. Completed cards can be sent as post cards. 
A3-size Large Paper (1 piece)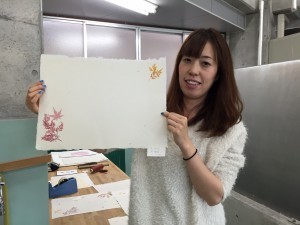 Fee : 1,200 JPY
Making this size of paper needs some technique. You have to scoop and move the equipment so carefully that liquid on it becomes equally flat. You can also decorate the paper and make it the only one design.
Colored Paper (2 pieces)
Fee 1,500 JPY
All courses takes 30~60 minutes to complete.
* Your paper will be ready for take-away at sight
* Payment by cash (Japanese yen) only
Business hours :  9:00 – 17:00
Closed on every Monday/New Year (Dec, 28 – Jan 4)
Reservation : Prior reservation is necessary, contact Sekishu Washi Kaikan by email or Fax.
Fax : 0855-32-4170
E mail : washikaikan@sekishu.jp
Access : 589 Furuichiba Misumi Hamada Shimane, 699-3225 [map]
If you visit there by train, they can pick-up from the nearest JR station (Miho Misumi st.). Please request them on your reservation that you need a pick-up.
For international visitors : Japanese paper making will be instructed in Japanese with demonstrations.
Guide or interpreter preferable.
Brochures are provided in English, Chinese and Korean.
The official website of Sekishu Washi Kaikan is available both in Japanese and English.