Experience the traditional Ai-zome, Japanese Indigo Dyeing.
HOME
>
Experiences
> Experience the traditional Ai-zome, Japanese Indigo Dyeing.
 
"No matter what pattern you decide, this will be unique amongst all the patterns in the world. It's your own 'special-edition."
Ai-zome is a traditional dyeing method in Japan. Its deep rich color is widely known as "Japanese Blue". You can try make your own dyed clothing and accessories such as handkerchiefs, t-shirts, and Japanese traditional hand towels called Tenugui at workshops below.
>>Learn more about Ai-zome
Amano Kouya
Mr. Amano is the fifth successor of Amano Kouya, the Hirose Dye workshop in Yasugi. He is the grandson of a Hirose Dye craftsman, and has grown up with indigo dye. He respectfully keeps the traditions and methods of Hirose Dye, while producing new items and products by stencil dyeing.
Address : 968, Hirose, Hirose-cho, Yasugi City, Shimane Pref. [map]
Access : 15 min by local bus from JR Yasugi Station
Opening hours : 10:00~18:00 *Closed irregularly

*How to make a reservation
Need prior reservation so please contact by mail : mail@yasugi-kankou.jp(Yasugi Tourism Association)
Handkerchief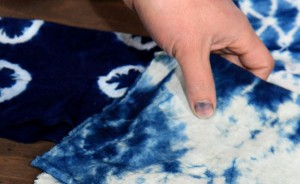 Size : 45 cm×45 cm
Price : 1,200 JPY
Duration : 45 min – 1 hour
Tenugui (Japanese hand towel)
Size : 34 cm×97 cm
Price : 1,800 JPY
Duration : All items need 1~2 hours to complete.
T-shirt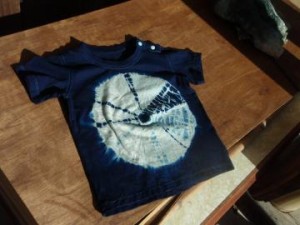 *For child
Size 100 cm ~140 cm
Price : 2,500 JPY
*For Adult
Size : 150 cm ~ Large for Adult
Price : 3,200 JPY
Duration : 1 – 2 hours
Stole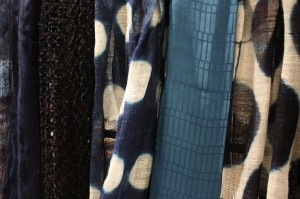 *You can choose from 10 different materials.
Price : 3,500 JP
Duration : 45 min – 1 hour
Note
※Craftsman is not able to speak fluent English, but will teach through demonstrations. If you have a person who can interpret Japanese for you, the workshop will go more smoothly (We do not offer interpretation services). If you are traveling in a group of 5 or more people, please arrange to be accompanied by an interpreter.*Need prior reservation
Tag : Traditional Crafts