Red Cliff [ Sekiheki ]
This dynamic landscape can be seen in Chiburi Island, which is the southernmost of the Oki Islands. The dramatic red cliffs of Sekiheki, ranging 50~200 meters in height, stretch for approximately one kilometer of Chiburi Island's west coast. The view of the cliffs from the sea is highly recommended. 
Enjoy watching the dramatic sunset from the cliff edge, or out at sea on a Sekiheki Cruise Boat. If you like exploring, you can hike here from Kurii Port.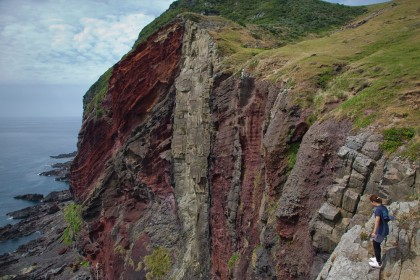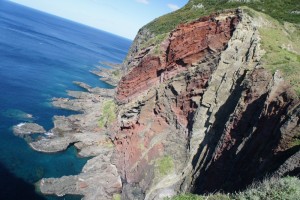 Sekiheki (Red Cliff) Cruising
Duration : 60 minutes
★Need prior booking★
Price : 12,000 JPY for a group of four or six persons
*2,000 JPY for each additional person

Please contact Chiburijima Tourist Association by email : sekiheki@jewel.ocn.ne.jp
Address : Chibu Village, Oki-gun
Access : 25 min by car from Kurii Port then 5 min walk.