Townscape of Omori
The town of Omori, which is designated as UNESCO world heritage together with the old silver mines, flourished as the management base of the Iwami Ginzan Silver Mine. The town has also been selected as an important traditional building preservation area. Red roof tiles are known as a famous local specialty of the town called Sekishu-gawara. Please take time and enjoy the townscape and visit some traditional buildings, temples, and shrines.
You can easilly
Tourist attractions here
Gohyaku Rakan & Rakanji Temple
Crossing arched stone bridges, you are welcomed by hundreds of stone statues called "Gohyaku Rakan" inside stone caves. Gohyaku means five hundred, and Rakan is the name for the highest rank of the Buddhist priests in Japanese. Actually 501 stone statues are placed in here for those who died while silver mining to rest in peace. Some of them smile, cry, or even chatter to other statues. In those days, it was said that you can find statues which remind you of your descended relatives among them. The rumor spread and many people who had lost their family came here to find them.
Former Kawashima Residence
This is the only former samurai residence in the Samurai Residential Preservation District open to the public. The property is surrounded by a high fence and gate, with a garden facing onto the street and the main house at the rear.
■ Opening hours : 9:00-16:30 (*Closed : New Year's Holiday) ■ Admission : Adult – 100 JPY / Elementary, Junior High School Students – FREE
House of the Kumagai Family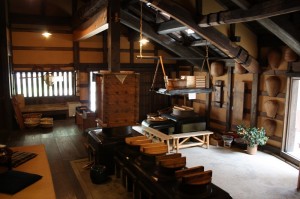 This is the largest merchant residence in Omori. This was involved with the management and administration of the mine during the 17th century. After this, it served as a guest house for merchants and officials visiting the Magistrate's Office. This home was also involved in the production of sake (rice wine) from the end of the Edo Period. There are more than twenty rooms and five storehouses in this grand home. Here visitors can soak up the atmosphere of rich merchant life.
■ Opening hours : 9:30 – 17:00 (enter by 16:30) ■ Closed : Last Tuesday of every month, New Year's Holiday) ■ Admission : Adult - 300 JPY / Elementary, Junior High School Students - FREE