The Round Dango are Art
Written by Borkhodoeva Natalia
After putting on the kimono, we learned how to make and drink traditional maccha tea and then headed straight for a restaurant called Tsukigase. Tsukigase was established 20 years ago as a store selling dango, a treat that is one of the representative traditional confectionaries of Japan. The restaurant also offers Japanese ramen, so I ordered the Matsue Ago-dashi ramen (530 yen) along with dango. The ramen had a light taste.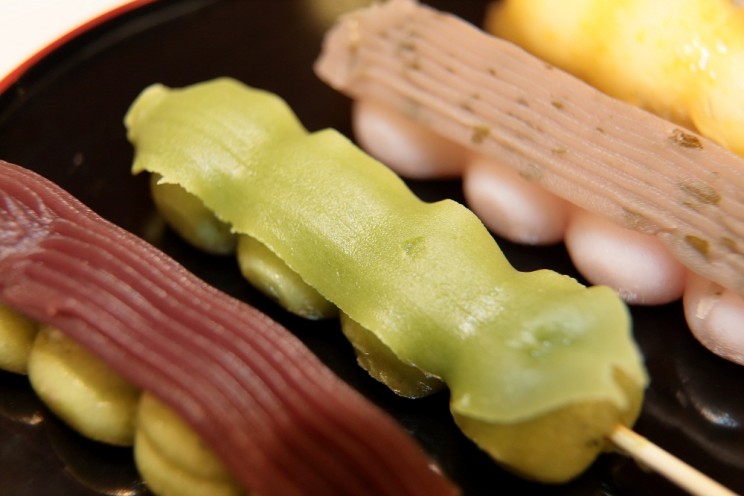 Dango is made by adding and kneading both cold and hot water with flour made from pulled rice, and then steaming it to create mochi. The mochi is cut, rolled into small spheres, and 3 spheres are placed on a skewer.
Tsukigase has a restaurant on the first floor, and a dango workshop on the second floor. Sometimes you can hear sounds of the pounding of flour and rice polishing, so it is clear that the restaurant is producing very fresh dango. The quality of dango is decided by the quality of the rice it was made from. The delicious rice used by Tsukigase is grown in Shimane, specifically Nita rice which is grown in Okuizumo Town's Nita District. Rice from the Tohoku region also has very good quality, so the dango there is also said to be delicious. Places that have high quality rice have the ability to make high quality dango.
Also, a large variety is also important. Tsukigase already has 8 different staple dango varieties that they offer, and according to each respective season, they add 2 or 3 more varieties of dango. The most popular dango are mitarashi dango (one of the staple dango), soy flour dango, and maccha (green tea) dango. During this winter season, you can taste the strawberry dango and the pink-colored hana-yori dango. Dango by itself is soft and does not have much taste, so the thick, sweet taste of azuki bean paste or sweet soy sauce goes well with it. I like to try different sweets that look different or have a different texture and taste compared to Russian confectionaries, so I would like to try many different kinds of dango. There is also sesame dango, brown rice dango, even dango with seaweed on top! I think it is amazing that Japanese people can take something as plain as mocha and give it an aesthetic beauty, essentially turning it into a work of art!
Where to enjoy Dango
Tsukigase