Experience Japanese Tea Culture in Matsue
Matsue, the capital city of Shimane is famous for its rich tea culture. You can try Japanese style tea ceremony in a traditional way, or you can just enjoy casual tea ceremony watching beautiful scenery.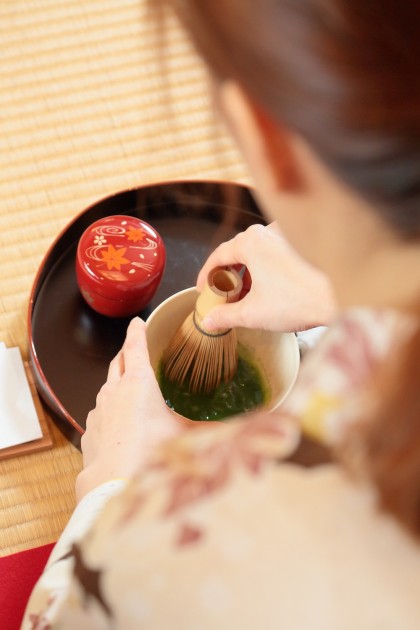 The consumption rate of tea in the city is said to be as much as five times the national average. Most Japanese tea is made from dried tea leaves. To brew, you simply put leaves and hot water in a teapot and wait for them to become infused. The leaves remain in the teapot and are not consumed. For matcha green tea, however, the dried leaves are ground into a fine powder. A teapot is not used; instead the powdered tea is placed directly in a bowl, and then hot water is added. Without waiting for the powder to dissolve, it is whisked quickly with a special tea whisk.
Matsue developed as a castle town during the middle ages under Lord Harusato Matsudaira, who had a keen appreciation of tea culture and the tea ceremony. Thanks to his patronage, the culture of Japanese confectionery and the tea ceremony spread amongst the people of Matsue.
In Matsue, the drinking of green tea and powdered green tea is a part of daily life. Guests are always welcomed warmly with tea. We encourage you to try traditional confectionery and green tea during your stay.
Where to experience traditional tea ceremony
Senchasoh
You can try a tea ceremony here making Japanese green tea or macha green tea. A certified professional lady gently teaches you how to enjoy Japanese tea at home.  You will find every detail change the taste of tea. It's not difficult, so just enjoy experiencing another Japanese culture.
Click here to see a review>>
[Address] 74 Suetsugu-honmachi, Matsue [map]
[Access] 10 mins by 'Lake Line Bus' from JR Matsue Station, and 5 minute-walk from 'Kyo-bashi' Bus Stop.
[Opening Hour] 10:00~18:00 (Closed: 1st, 3rd Sundays)
[Fee] 800 JPY (for the lecture of tea ceremony with Japanese confectionery.)
700 JPY (for a lecture of a tea ceremony without Japanese confectionery.)
You can bring your favorite confectionery to senchasoh and taste it with your tea, or you can also make Japanese confectioneries by yourself at a nearby factory.
[Duration] 30~60 min
[Reservation] Taking a lecture needs a prior reservation.
Please contact them by email including information below.
・ Number of people accompanying with you. (* Maximum number : 20 people)
・ Your contact information which they can reach you when you are at home and during a trip.
・Whether you understand Japanese or not.
*Lecture can be provided in English with demonstrations and written guidance, but it will go more smoothly with someone who can interpret Japanese for you.


Meimeian Tea Room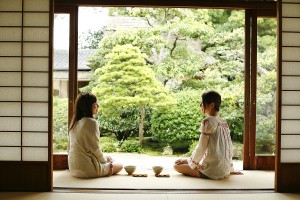 Address: 278 Kitahori-cho, Matsue [map]
 [Fee] Admission fee : 200 JPY 
 Matcha Green Tea and Japanese Confectionery : 410 JPY
[Opening Hour]
 Apl-Sep. 8:30 ~ 18:30 (Tea is available from 9:50 to 17:00)
 Oct-Mar. 8:30 ~ 17:00 (Tea is available from 9:50 to 16:30 )

Try Japanese tea casually
Gessho-ji Temple
[Address] 179 Sotonakabara-cho, Matsue[map]
[Fee]  Admission fee : 250 JPY 
             Matcha Green Tea and Japanese Confectionery : 400 JPY
[Opening Hours]  Apl-Oct. 8:30 ~ 17:30 / Nov-Mar. 8:30 ~ 17:00  (Tea is available from 9:00 to 17:00)
Cafe Kiharu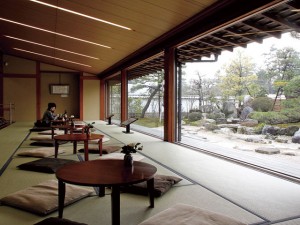 [Address] 279 Tonomachi, Matsue [map](Matsue Historical Museum)
[Access] 15 mins by 'Lake Line Bus' or route bus from JR Matsue Station, and 1 minute-walk from 'Shiominawate' Bus Stop /
[Opening Hours] Apr-Sep. 8:30 ~ 18:30 / Oct-Mar. 9:00 ~ 17:00 (*Closed : every third Thursdays)
Tsukigase
 [Address] 87 Suetsugu-honmachi, Matsue [map]
 Click here to see a review >>
[Access] 10 mins by 'Lake Line Bus' from JR Matsue Station, and 3 minute-walk from 'Kyo-bashi' Bus Stop.
[Opening Hours]  10:00~19:00 (Open every day)
Herun-no-komichi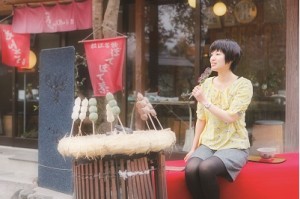 [Address] 488 Tonomachi, Matsue [map]
[Access] 16 mins by 'Lake Line Bus' from JR Matsue Station, and 5 minute-walk from 'Koizumi Yakumo Memorial Hall' Bus Stop
[Opening Hours] Mar.~Nov.10:00~18:00 / Dec.~Feb. 10:00~16:00
Matsue Grand Tea Ceremony
  Every year in the beginning of October, the Matsue Grand Tea Ceremony takes place in Matsue. The ceremony, which is known as one of the best three tea ceremony parties in Japan, marked the 31st anniversary in 2014. many people dressed up in Kimono About ten schools of tea ceremony, and not only fanciers of sado, many people come to enjoy the Japanese tea, Japanese confectioneries, tea ceremonies and traditions.
[Venue : Matsue Castle Grounds, Matsue Historical Museum]
Tag : Japanese Culture