Iinan Adventure: The Road to becoming an Onsen Master.
When I went to Iinan with my colleagues, we had the opportunity to bathe at two different onsen, Ramune Onsen and Kada no Yu.
We first went to Kada no Yu. Water from the nearby hot spring flows into the small bath. Next to the bath with the hot water is another bath with cold water. There is also a small sauna available for use. The water from Kada no Yu has a brown color and when I entered the water I noticed that I could not see my legs or submerged torso in the water because it was cloudy. It turns out that this cloudy hot spring water is being transported directly from the source, thus giving it its color and is also full of minerals such as sodium carbonate and calcium carbonate!
There was a kind old man who taught me the secret to enjoying onsen even more. I had been to onsen before, but all I ever did was shower, enter the hot bath, rinse, and then leave. He told me that you should shower, enter the hot bath, then jump into the cold bath. After that, you should head into the sauna, followed by entering the cold bath once again. Once that is done, you enter into the hot bath one more time. It really made a difference. I was hesitant at first because jumping straight from a hot bath to a cold one didn't seem like fun, but the effects were evident. The cold bath functions as a "reset" of sorts, and allows you to really feel the warmth of the hot spring and sauna. It is also apparently good for the skin and blood circulation. I definitely will keep it in mind when enjoying onsen from now on!
The next day, we went to Ramune Onsen. The facility is smaller than Kada no Yu. When we entered, I swore I could smell the sweet smell of ramune, a Japanese carbonated soft drink. I was expecting a bathtub full of ramune; Ramune Onsen is known for its carbonated hot spring water. I went there expecting to see a bath with bubbles rising to the surface, but it was not what I thought it was. Though it is supposedly carbonated, it didn't seem like it was. You are supposed to feel a light tingling sensation when you enter the water. However, I do not remember feeling anything similar to what was described. The water was light brown-colored and the water was being drawn right from the source. Maybe I just had set my expectations too high, but it was a regular onsen experience at an onsen with a great name.
Before coming to Iinan, I had visted an onsen located in the Yunotsu Onsen of Oda City called Yakushi Yu,. Like Ramune Onsen and Kada no Yu, the water is drawn right from the source. However, the hot spring that Yakushi Yu Uses is located 2~3 meters directly behind the facility! Compared to the other onsen, the water is very hot! The water is cloudy, but rather than the water being brown, the area around the onsen is brown. The brown areas that look similar to mud are actually sinter deposits, hardened deposits of minerals from mineral springs, and they provide the bath with a unique, earthy aesthetic! This onsen is one of the best onsen I have ever gone to!
Taking a dip in any of these onsen will not only provide you with a relaxing experience, but onsen are also great for resting and refreshing your body. There are a bunch of other health benefits as well, which differ depending on the type of onsen. I look forward to my next onsen experience!
Written by Sondey Olaseun
This web page introduces the remarks and comments written by CIR (Coordinator of International Relations) of Shimane Prefectural Government who experienced Japanese Culture.
Kada-no-yu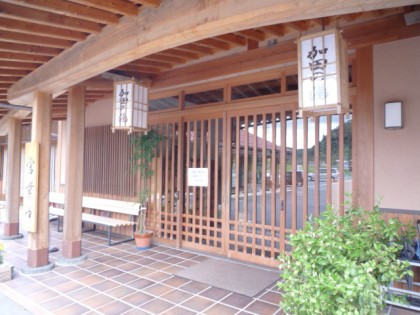 Address : 707-2, Shimokijima, Iinan-cho, I-ishi-gun, Shimane [map]
Access : 50 min by taxi from JR Geibi Line Miyshi Station.
Opening hours : 10:00 ~ 20:00 (Last entry 17:30)
Closed : The second and forth Tuesdays, January 1st & 2nd
Tonbara Ramune Onsen
Address : 707-2, Shimokijima, Iinan-cho, I-ishi-gun, Shimane [map]
Access : 75 min from JR Matsue Station by Ichibata express bus bound for Hiroshima to "Tonbara" bus stop, then 1 min walk.
Opening hours : 11:00 ~ 20:00
Closed : Thursdays