Visit Japanese Sake Brewery
 Sweet and rich, or bland and dry?
Please try and find your favorite at breweries in Shimane.
It is recommended to visit breweries and see how sake is brewed for those who have an interest in sake. There will be lots of impressive discoveries for you. Usually the brewing season starts at the end of year since the rice is harvested in autumn, so if you cance to visit Shimane during October to Februally, take a chance to visit breweries listed below.
※Visiting brewery tour does not include guides nor interpreters. If you have a person who can interpret Japanese for you, you can get deeper understanding (We do not offer interpretation services).
Yoshida Brewery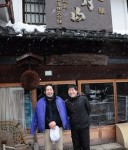 1216 Hirose, Hirose-cho, Yasugi-shi, Shimane [map]
Official Website (Japanese) http://www.e-gassan.co.jp/
Please contact by e-mail : mail@yasugi-kankou.jp
>>Click here to see the review of "Visiting Yoshida Brewery"
Itakura Brewery
468 Enya-cho, Izumo City, Shimane []
Furuhashi Brewery
196 Ushiroda, Ro,Tsuwano-cho, Kanoashi-gun, Shimane
Kasen Shuzo
221 Ushiroda Ro, Tsuwano-cho, Kanoashi-gun, Shimane
VISITING THESE BREWERY NEEDS RESERVATION
*Please note that during busy periods, they may be unable to meet all requests. They start making sake with newly cropped rice from the end of the autumn. 
Tag : Sake