Carving the Soul of the Kimachi Stone
Kimachi stone has long been associated with the Izumo region. It is a type of sedimentary sand stone that was formed around 14 million years ago when Japan was beginning to separate from the Asian continent. There had been a huge eruption from a volcano near the coast of Japan, and the ash flew into the ocean. The ash would mix with the sand and the ocean and harden over time, forming kimachi stone. Eventually, large amounts of Kimachi stone were formed, and because of the unique landscape of the Izumo region as well as the abundant yet exclusivity of the material, it had been referred to as "Izumo-ishi" or "Izumo stone."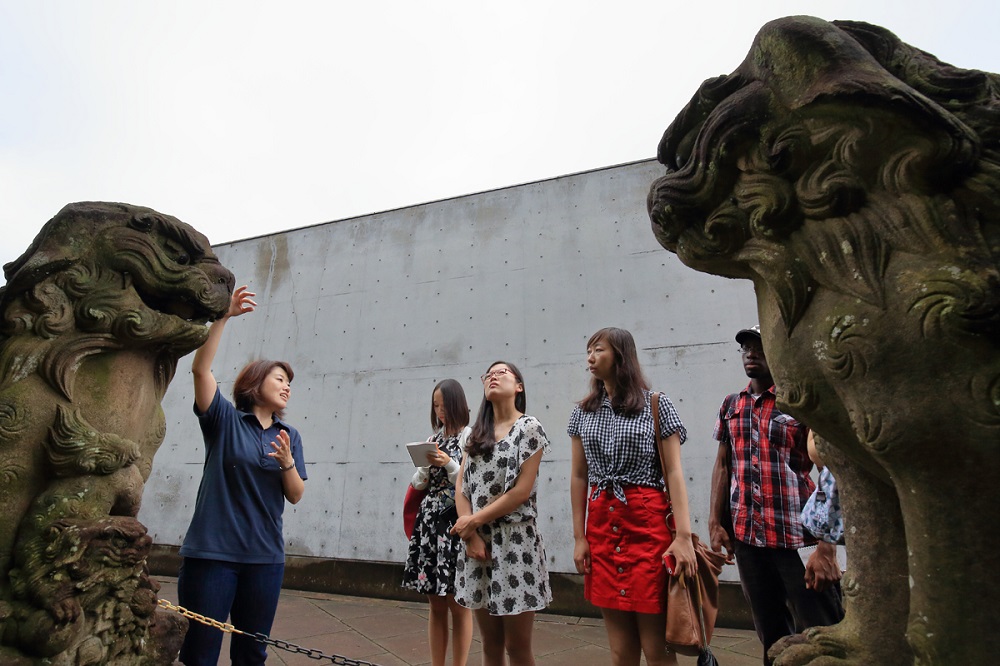 To learn more about Kimachi Stone and its connection to Japanese culture, my colleagues and I headed to the Kimachi Stone Museum located in Kimachi, Matsue City. There, we learned about its history and how it was used. Kimachi stone was used for many different purposes such as stone lanterns that could protect the flame from the rain, decorations for one's home, steps that are said to be easier on the knees compared to tougher types of stone, and even statues of the lion-dog creatures that one can usually find at temples and shrines, komainu,.
In the past, all of the carving and material collection was done by hand and using simple tools. Within the grounds of the Kimachi Stone Museum there is a site where the stone used to be collected. You can still see the marks from the tools that were used to remove and transport blocks of stone from the site. There are many different tools that are used for carving kimachi stone, such as a turuhashi, a sort of pickaxe.
The lanterns and statues created from kimachi stone are quite intricate, I began to wonder just how the stone is collected and then transformed into pieces of art. I would be able to get a glimpse and experience a bit myself through a stone carving workshop that was available at the nearby Kimachi Stone Studio. Within the facility the workshop was already set up with a small block of kimachi stone, a hammer, a big chisel, and a small chisel on top of a sheet of cloth. We each took our spots and proceeded to draw our design onto the stone using a special sheet of paper designed to leave clearly visible marks on the stone.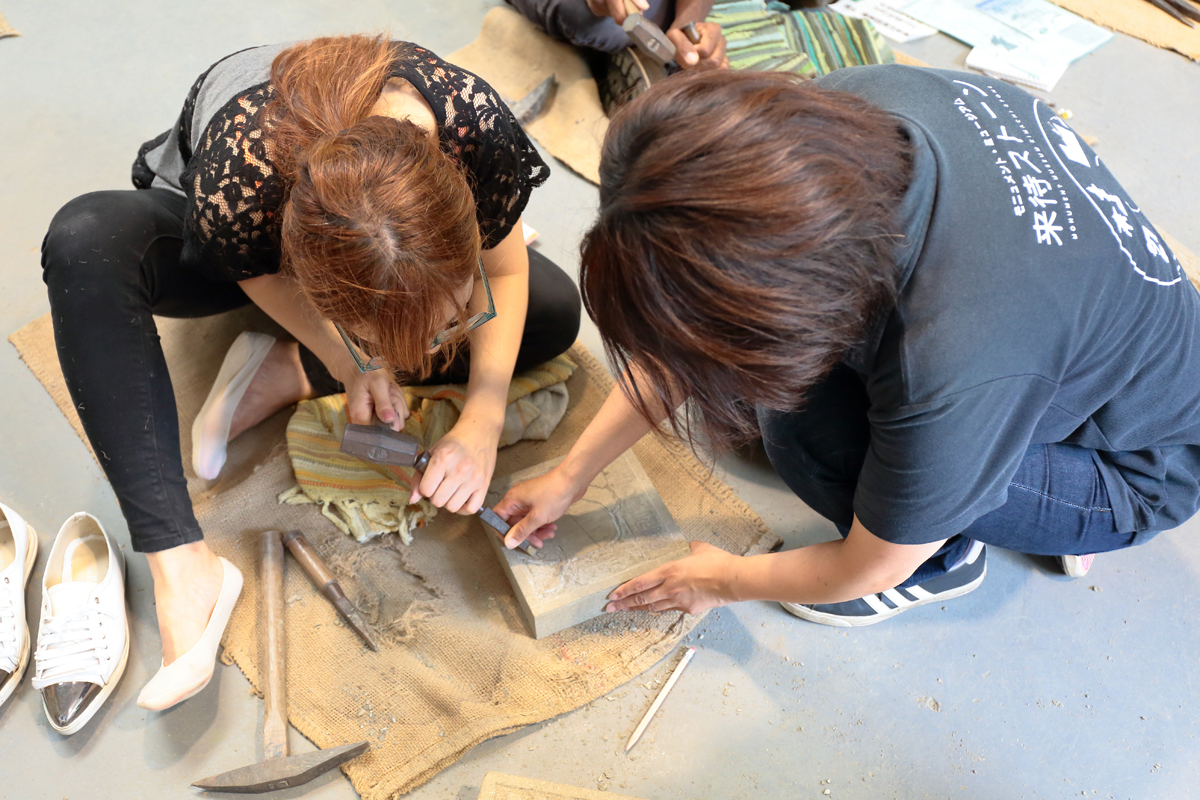 Two staff guided us through the process of shaving and carving the stone using the hammer and chisel. One can't just hammer away at the stone. It takes precision, a proper angle, and a consistent, firm, and steady hand in order to carve cleanly and clearly into the stone. If you put too much power into your strike, you could carve out too much of the stone, possibly ruining your design and you would have to either start all over with a new stone, or work around the mistake. If you change the angle of the chisel against the stone, it can result in one area being deeper than the other.

One aspect of carving kimachi stone was how easy it was to carve. Kimachi stone is actually relatively soft compared to other stones. This is because it is formed through a mixing of sand and volcanic ash. When striking the hammer against the chisel, it did not take much force to make a dent on the surface of the block. If I had picked up the block and dropped it, I am pretty sure it would easily break into multiple pieces.
I was excited because I had what I thought was a cool design, and I wanted to bring it to life using kimachi stone. I drew the design and then I decided the levels of depth that each section of the design would have. I thought that the design that I had created would be simple and easy to carve, but I was wrong. I had to account for the small spaces between shapes, and the shape of each line as well.
It was a bit difficult sitting on the floor opposed to sitting in a chair. Fragments of the stone flew off with each strike of the hammer. Sometimes they would fly right into my face! After a while I asked for goggles so that I could protect my eyes. We carved our own designs for about an hour and a half, but the majority of us had not completed our carvings. It is a process that takes time, and a lot of effort, especially when using only hand tools. Even though we were sitting down while we were working, I was really sweaty and tired afterwards. It really made me appreciate the work that the employees of the studio and museum do. Some of the sample works are really intricate. I can imagine it must have taken them a very long time to create some of those pieces!
Carving kimachi stone was an interesting and challenging experience. I took home my unfinished creation, and eventually plan to continue working on it until completion!
Written by Sondey Olaseun
This web page introduces the remarks and comments written by CIR (Coordinator of International Relations) of Shimane Prefectural Government who experienced Japanese Culture.
KIMACHI STONE MUSEUM
Address :  1574-1, Higashi Kimachi, Shinji-cho, Matsue-shi, Shimane
Opening hour : 9:30~17:00 (Entry by 16:00)
*Tuesday is closed (Wendsday is closed when Tuesday is a holiday.)
Kimachi Stone Carving 
Fee : Adult – 1,540 JPY , Children 1,020 JPY (Includes material cost, insurance)
Duration : Approx. 1 ~1.5 hour
*Reservation is needed when your party includes more than 10 people.