【25-26 Nov.】INAKA illumination 2017 at the station in the sky
INAKA Illumination is completely different from the flashy lights of the city. Here visitors enter a world of illusion and fantasy.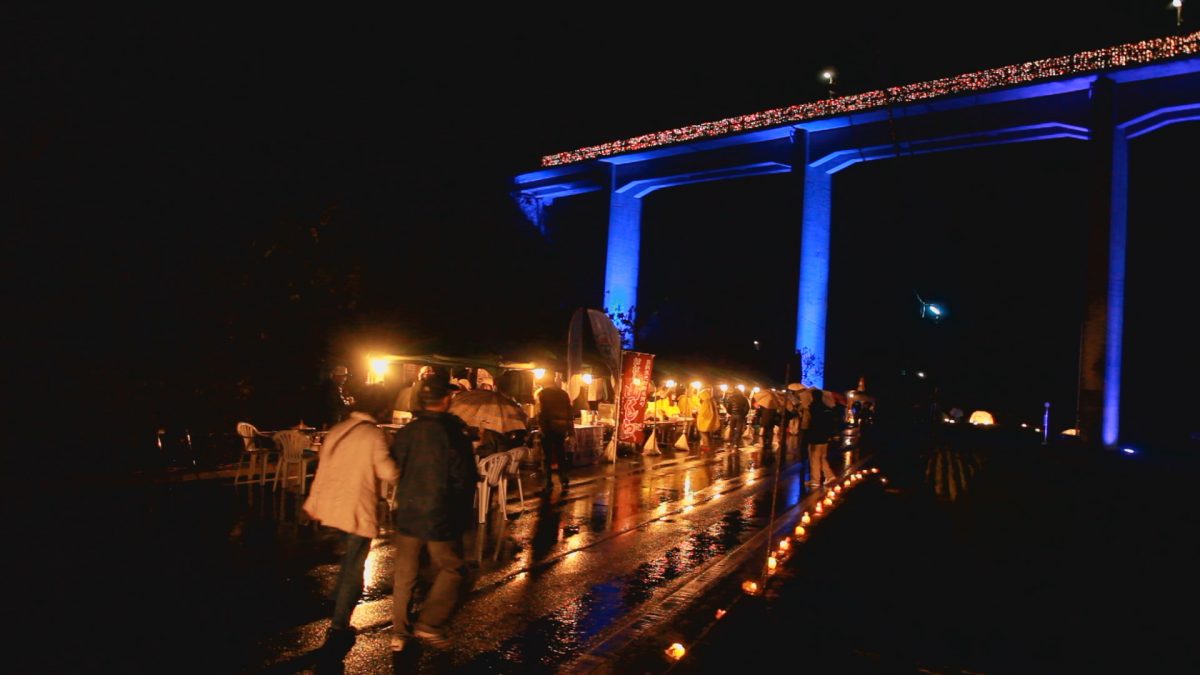 Ohnan Town is holding its 8th annual INAKA Illumination event this November 25th and 26th 2017. Come see the spectacular display of over 35,000 hand-arranged LED lights at Ohnan's famous JR Uzui Station. The event includes locally crafted illumination artwork, illuminated performances and Ohnan's specialty A-class gourmet food.
For the past 7 years, Uzui village has held INAKA Illumination to revitalize the local community and promote the Ohnan's only train – the JR Sankosen line. This line first opened in 1930, and from 1975 connected Gotsu City and Miyoshi City, yet due to budgetary issues it will be permanently discontinued March 2018.
Come out and send off the Sankosen line with a bang!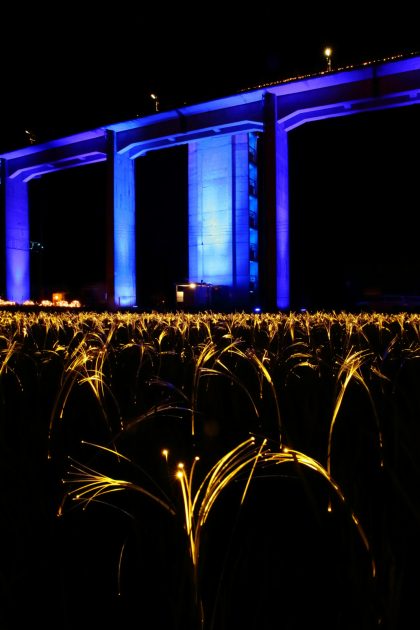 01    HISTORY
INAKA Illumination first began in 2010 as a way to stimulate the local community and the use of the JR Sankosen local train. At the suggestion of a local LED company, and with the cooperation of a special design company in Osaka, INAKA Illumination was realized and has become a focal point of Ohnan's fall/winter season.
Uzui Station has 116 steps and stands 20 meters (65 feet) above the ground. It is also known as "the station in the sky." While only 130 people live in the Uzui area, 60% of whom are senior citizens, approximately 8,000 people attend this event each year. (That's over 60 times the population of the area.)
INAKA Illumination is completely different from the flashy lights of the city. Here visitors enter a world of illusion and fantasy. Time stops. Thirty-five thousand LED lights are wound into 5,000 gold shining stalks of rice that stretch out across the landscape. Uzui Station's iron bridge of is afire with vibrant blue. Looking up at the station, it seems to fade seamlessly into the night sky. Scaling the steps and peering down below upon the small village, it's as if the station itself is nestled among the stars.
The moment that truly draws visitors into the world of imagination is when the Sankosen train pulls into the station. Fans of the manga and anime Galaxy Express 999 (銀河鉄道 999) may recognize the imagery of the train exiting the tunnel and seemingly continuing onward on its journey through the galaxy.
 02   A-CLASS GOURMET FOOD
A-Class Gourmet is the farm-to-plate philosophy of using locally grown produce to create delicious dishes, capturing a taste that can only be experienced in Ohnan.
INAKA Illumination hosts food stalls for patrons to try out local cuisine. The following are just a few examples:
・Skewers and bento of Iwami wagyu (High-quality beef, production limited to 200 cows per year)
・Wild boar dishes such as soup and meat buns
・Meals from Ohnan's Kitchen Car, such as Iwami pork and pasta
・Salted ayu skewers (type of freshwater fish)
・Yakisoba and udon
・Zenzai (sweet red bean soup with mochi)
・Oden (traditional hot soup eaten in the winter)
・Specialty Ohnan cheeses
・Baked sweet potatoes
・Desserts such as grilled manju (sweet red bean bun), crepes, and donuts and soft serve ice cream made with soy milk
・Drinks such as Japanese sake, specialty coffee, café au lait and cider
 03   Event Schedule
Date:  November 25th and 26th (Sat. and Sun.) 2017
Time:  4 p.m. – 8:30 p.m.
Where:  JR Uzui Station [map]
*Please be advised that the use of drones is prohibited.
 04   Access
■PUBLIC TRANSPORTATION
Use the JR Sankosen local train to get the full "station in the stars" experience.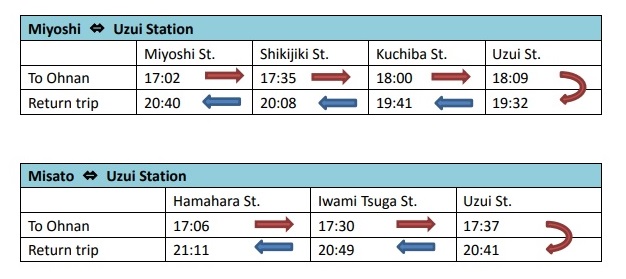 ■PARKING
Parking can be found at Hasumi Middle School [map].
Free shuttle buses are available for transportation to and from the event.
 05   More Details of the Event
For more details please check this PDF made by Ohnan Town !
    CONTACT
Questions? Please contact at:
E-mail: inbound@ohnan.onmicrosoft.com
Facebook: Ohnan Town  (@ohnantown)
Skype: ohnantown
\\ Discover more about Ohnan Town //
http://www.ohnan-kanko.com/english/index.html
  Instagram : @discover_shimane  
\\ Share your memories #discover_shimane to give us permission to repost! //