[Bird watching spot] 1,000 Swans Wintering in Yasugi City
 01  About Swans in Nogi Plain
Nogi Plain in Yasugi City is a great place for bird watching.
Since around 1975 swans began to come to Nogi Plain for wintering. Now, every year around 1,000 swans come here from Siberia to pass the winter. Usually they come here in early November and stay until mid March. Actually these swans sleep at nearby Yonago Mizudori Park in Yonago City, Tottori, and 'commute' to this Nogi Plain every morning for food, spend daytime here and get back to the park to rest in the evening and night.
It is said that they love this Nogi Plain which has vast ricefields because food is still plentiful after the harvesting of the ricefields (second yielding rice stalks, leaves, roots etc.) and the space is quiet and wide open which give swans a nice distance from human beings/cars.
 02   Bird-watching tips
Swans are very sensitive and to get frightened easily. So when you come here for bird watching, please keep in mind to always keep a good distance from the birds so that they keep coming peacefully in the future. Please also refrain from making loud noises. And also do not feed the birds. Happy and safe bird watching for both swans and humans 🙂
 03   Access
10 mins by car from Yasugi I.C. on San'in Expressway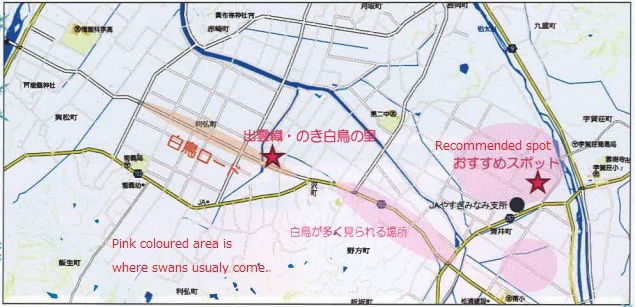 04   Nearby recommended spots
Adachi Museum of Art (Yasugi City)

Yasugibushi Performance Hall (Yasugi City)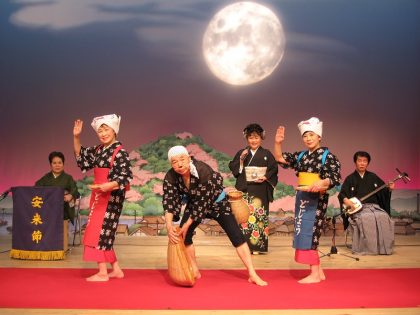 Yasugi Kiyomizudera Temple (Yasugi City)

Yuushien Garden (Matsue City)

Matsue Castle (National Treasure) (Matsue City)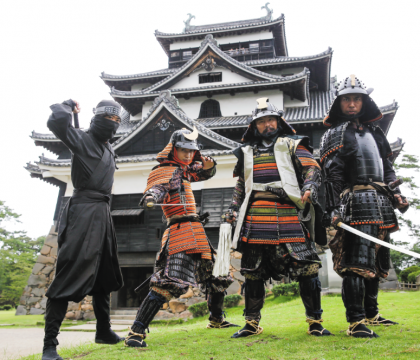 Lake Shinji (Matsue City)

More info and photos:
http://www.yasugi-kankou.com/index.php?view=5696 (Japanese site)