"EN-MUSUBI" PERFECT TICKET
The "En-Musubi" PERFECT TICKET is the perfect way to travel in Matsue and Izumo!
Welcome to Shimane! If you plan on staying in the Matsue and Izumo area for a couple of days there is a "perfect ticket" for you. The continuation of a special promotion on the Perfect Ticket at the same discounted price for foreign tourists will start again from April 1st, 2020. The Perfect Ticket gives you free rides on Ichibata trains and buses, also including Matsue city buses for 3 days. This ticket also includes discount privileges at over 30+ tourist spots.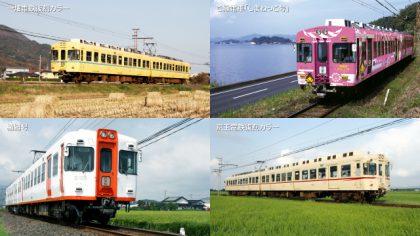 "En-Musubi" Perfect Ticket – discounted price for foreigners
FROM April 1, 2020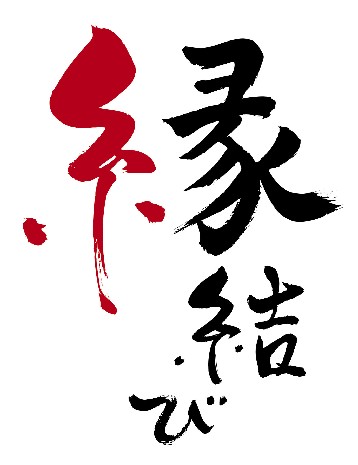 ●4,000 yen for Adults  →  2,000yen
●2,000 yen for Children 12 ≥ →  1,000yen
*must present passport at time of purchase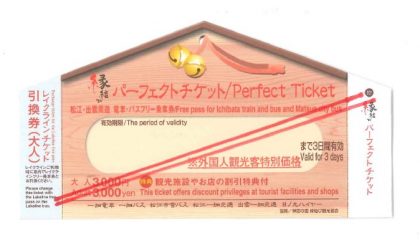 Where can I get this ticket?
Ichibata Travel Service (next to JR Matsue Station) [map] ・ Ichibata Train Stations (Matsue Shinjiko Onsen [map], Izumo Taisha-mae [map], Dentetsu Izumo-shi [map]) ・ Izumo Tourist Information Center (Inside JR Izumoshi Station) [map] ・ Izumo En-Musubi Airport Information Counter [map] ・ Yonago Kitaro Airport Information Counter [map] ・ Sakaiminato Tourist Information Center [map]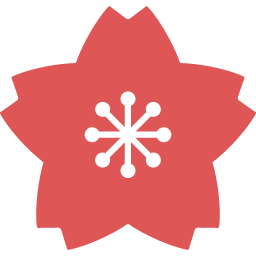 You will receive a infomation brochure of the ticket written in English / Korean / Simplified Chinese / Traditional Chinese at the ticket office.
Where can I use it?
On any Ichibata busses and trains within Matsue and Izumo. You can also use it on Matsue City busses and the Matsue Lakeline bus. You can also use it on busses bound to/ from Yonago and Izumo airports.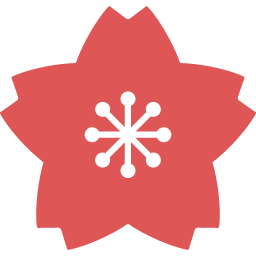 Airport busses include  :
●Izumo En-musubi Airport <–> JR Matsue Station / Matsue Shinjiko Onsen Station
●Izumo En-musubi Airport  <–>  JR Izumoshi Station / Dentetsu Izumoshi Station
●Tamatsukuri Onsen  <–>  Izumo En-musubi Airport  <–>  Izumo Taisha Grand Shrine
●Yonago Kitaro Airport  <–>  JR Matsue Station
Ichibata Electric Railway English website :
Where can I get my special discounts at?
(1) Matsue Castle (National Treasure) ・ (2) Matsue History Museum ・ (3) Matsue Horan-enya Memorial Hall ・ (4) Former Samurai Residence (*under renovations till April 2018) ・ (5) Lafcadio Hearn Memorial Museum ・ (6) Lafcadio Hearn's Former Residence ・ (7) The Tanabe Museum of Art ・ (8) Horikawa Sightseeing Boat ・ (9) Meimei-an Tea House ・ (10) Gesshoji Temple ・ (11) Fumon-in ・ (12) Lake Shinji Pleasure Cruise ・ (13) Shimane Art Museum ・(14) Matsue Shinjiko Onsen Hotel Ichibata ・ (15) Shimane Bussan-kan (Shimane Local Products Center) ・ (16) Ichibata Dining ・ (17) Matsue Horikawa Local Beer Hall ・ (18) Matsue Shinjiko Shijimi Clam Center ・ (19) Yaegaki Shrine ・ (20) Izumo Kanbe no Sato ・ (21) Yuushien Garden ・ (22) Meteor Plaza ・ (23*) Adachi Museum of Art ・ (24) Matsue Vogel Park ・ (25) Kappo Onsen Yurari ・ (26) Shimane Winery ・ (27) Shimane Museum of Ancient Izumo ・ (28) Kanko Center Izumo ・ (29) Tezen Museum ・ (30*) Izumo You-Plaza ・ (31) Izumo Folk Crafts Museum ・ (32) Restaurant Camelia (Izumo) ・ (33) Izumo Tamatsukuri Museum
* Note :  transportation fees to these places are not covered by this ticket.