SL Yamaguchi Train Schedule for 2019
Experience a Steam Locomotive Journey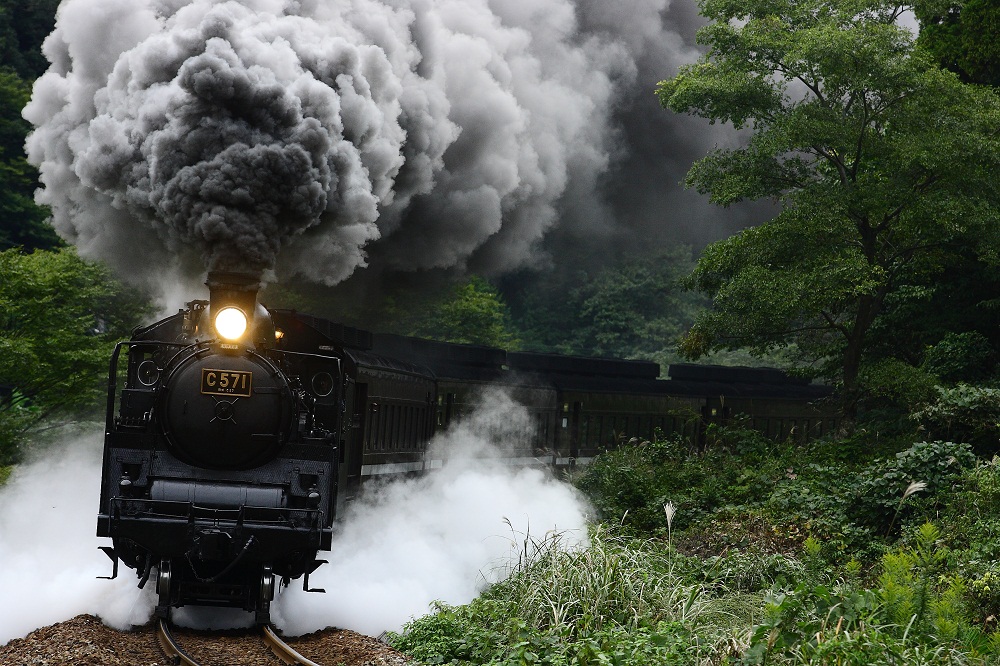 SL Yamaguchi-go Steam Train, is an engine model C571 steam locomotive train which runs through the unspoiled countryside between JR Shin-Yamaguchi Station (Yamaguchi) and Tsuwano Station.  Its beautiful black solid iron body impresses all the SL fans. And even if you are not an SL fan, your heart will beat just as fast when you hear it blowing its whistle as it comes by leaving a trail of steam and smoke. 
SL Yamaguchi, also known by its nickname "The Lady",  is a retro five-coach train with three different car style types.
Shin-yamaguchi Station, easily reachable by bullet train, is where your 2-hour journey on the SL Yamaguchi will start. It is recommended to reserve in the observation coach or open the windows to enjoy the lovely scenery, however, please be careful when you go through tunnels. Hurry back inside and close the windows, or you will find yourself sooty by the time you get out.
 At the last stop, the old castle town of Tsuwano will be waiting for you. At this time you can watch the SL train turn around on the turntable at the Tsuwano Station to make its return trip back to Shin-yamaguchi Station. 
History of SL Yamaguchi
 In Japan, steam locomotive trains were put out of service at the end of the 1960s, and steam locomotives on the Yamaguchi Line also disappeared in 1973. However, a lot of SL fans were eager to see restored SLs run again and it was then decided that the traction engine Model C571 would run again on the Yamaguchi Line.
During the summer of 2013, heavy rain hit Shimane several times, leaving damages across the western Shimane. JR Railway's lines were seriously damaged and some sections were put out of service. SL Yamaguchi was also put out of service for a year and its absence was lamented by not only train fans, but also many locals and sightseers. 
The beloved SL Yamaguchi made its come back the next summer, running proudly through the unspoiled nature again and was welcomed by a lot of people.  
☆Operation schedule 2019☆
     *The operating schedule may be subject to change.
March – 23, 24, 30, 31
April – 6, 7, 13, 14, 20, 21, 27, 28, 29, 30
May – 1, 2, 3, 4, 5, 6, 11, 12, 18, 19, 25, 26
June – 1, 2, 8, 9, 15, 16, 22, 23,
July – 20, 21, 27, 28
August – 1, 2, 3, 4, 10, 11, 12, 17, 18, 24, 25, 31
September – 1, 7, 8, 14, 15, 16, 21, 22, 23, 28, 29
October – 5, 6, 12, 13, 14, 19, 20, 26, 27
November – 2, 3, 4, 9, 10, 16, 17, 24

※ SL Yamaguchi doesn't run during winter, except Christmas holidays and New Year holidays.
Time Table
[Outbound : Shin-Yamaguchi 10:50 ⇒ Yamaguchi 11:13 ⇒ Tsuwano 12:59 ]
[Inbound : Tsuwano 15:45 ⇒ Yamaguchi 17:09 ⇒ Shin-Yamaguchi 17:30 ]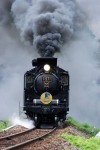 Ticket Information
*SL Yamaguchi is a reserved -seat train. You need a railway ticket (You don't need it if you are a Japan Rail Pass holder) and also need to reserve your seat in advance (Rail Pass holders also need to pay the fee for the reserved seat ticket). You can purchase and/or reserve your seats at ticket reservation office Midori-no Madoguchi at JR stations or major travel agencies. Tickets can be purchased from a month in advance.
The fare and the vacant seat conditions are available on the official website (Japanese) or by phone.
Customer support center: +81(0)570-00-2486 /JR WEST JAPAN Hiroshima Branch :+81(0)82-264-7420