Cycling Adventure on Nakanoshima Island
(Written by Izabela Raczynska, CIR from Okinoshima Town)
Let's say you are visiting Oki Islands. You already swam, enjoyed marine sports and hiked. Is there anything else you can do here?
Of course there is! Cycling is yet another activity the islands have to offer and Nakanoshima (Ama Town) especially is a perfect place to explore on two wheels! Roads in its northern part have significantly fewer ups and downs than any other area on Oki and the whole place is dotted with numerous points of interest. Beautiful scenery, rich culture and history are waiting to be discovered!
But first things first – the bicycle rental. The Tourist Information Centre, conveniently located right next to the ferry terminal at the Hishiura Port, offers this service with a selection of both regular and electric bicycles. If you are looking for a more leisure ride without any cardio, then the electric one is for you! It's a good idea to contact the Tourist Information Centre ahead of time to reserve electric bicycles. As you are arranging your bicycle rental, do not forget to grab a map of the islands. Signboards clearly mark the way to Akiya Coast from Hishiura Port, but finding your way to Uzukamikoto Shrine can be a bit tricky.
Points of interest
Oki Shrine – though the shrine itself was built in 1939, it is connected to a history much older. Worshipped there is Emperor Gotoba, who died during his exile on Oki Islands in the 13th century. The historical site of the emperor's cremation is located in the vicinity.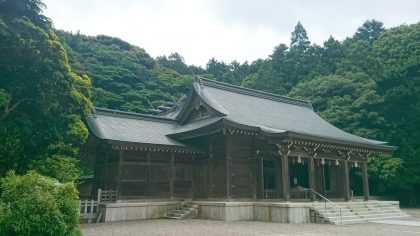 Akiya Coast – vivid red volcanic rocks and the crystalline blue of the sea create a striking contrast; add a curious, heart-shaped hole in a rock, and you have an Instagram worthy spot. Akiya Coast is a perfect place to enjoy nature, marine sports and relax.
Uzukamikoto Shrine – in ancient times, it was listed as one of the most important shrines in the country. Its omote sando (front approach to the shrine) leading through rice fields is especially memorable.
Townscape of Ama – A quiet charm lies in its old houses, narrow streets and rice fields.
Suggested Route
o Hishiura Port -> Oki Shrine, 3.3 km
o Oki Shrine -> Akiya Coast, 3.8 km
o Akiya Coast -> Uzukamikoto Shrine, 2.3 km
o Uzukamikoto Shrine -> Hishiura Port, 5.7 km *longer route by the seaside
Access to Nakanoshima Island (Hishiura Port)
o From mainland Shimane:
Ferry Kuniga, Oki Kisen Co. Ltd.
*Round trip on the same day is not possible. Arranging accommodation in advance on one of the Dozen Islands is advised.
o From Dogo Island (Okinoshima Town):
Ferry Shirashima, Oki Kisen Co. Ltd.
*Round trip on the same day is possible.
o From Nishinoshima and Chiburijima Island (Nishinoshima Town, Chibu Village):
Inter-Island Ferry ISOKAZE
Ferry Dozen
*Round trip on the same day is possible.
Timetable for ferries:
Oki Kisen Co. Ltd. (Shirashima, Kuniga, Oki & Isokaze)
Bicycle Rental
Ama Town Tourism Association
*Electric bicycle is advised.