2020 Cherry Blossom Season and Popular Spots
According to the Cherry Blossom Forecast by Weather Map (3/2/2020), the 2020 cherry blossom season starts 3/20 and flowers in full bloom on 3/27. The page is only in Japanese, but you can look at the graphs showing the peak blossom season. [link] *(updated 3/2/2020)
Matsue Castle
Why not visit the National Treasure Matsue Castle while in Matsue?
Matsue Castle and Matsue Castle Grounds [map]
Matsue city, Shimane
Tamatsukuri Onsen 
Stroll through the onsen town, along the stream, and under the blooming cherry blossom trees.
Tamayu River Bank in the Tamatsukuri Onsen area [map]
*Cherry blossom trees are illuminated at night (18:30~22:00) until the middle of April
Matsue city, Shimane
Senjyu-in Temple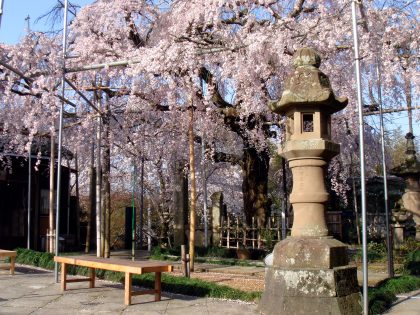 Did you say 200 year-old weeping cherry blossom tree??
Senju-in Temple [map]
Senju-in Temple is hidden spot which is famous for 200 year-old weeping cherry tree. Located in the auspicious North-east direction of Matsue Castle, it is said to protect the castle and its occupants from evil spirits. This temple is located uphill near the Matsue Castle so visitors can have a great view of the castle.
Matsue city, Shimane
Hii River Bank (the best 100 cherry spots in Japan)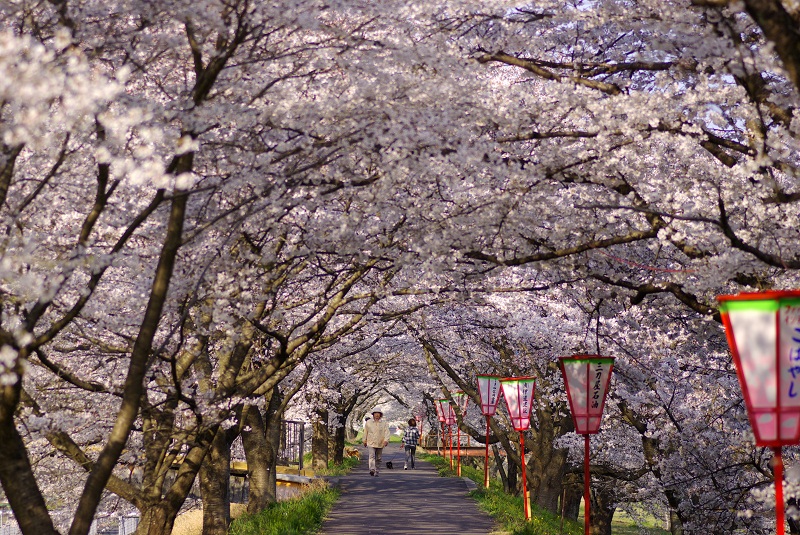 Through a tunnel of cherry blossom trees?
Rows of cherry trees along the Hii River Bank [map]
Check out the article on the Kisuki Cherry Blossoms Tunnel.
Also, check out our youtube video from last year.
Unnan city, Shimane
"Gyoiko" is  one of the more rare species of cherry with yellow-green flowers. Its blooming season comes after ordinary cherry blossoms  from the latter half of April.
Venue : Mitoya River Bank [map]
Unnan city, Shimane

Yasugi 
Kiyomizudera Temple
Tucked away in the mountains with a climbable pagoda that will give you the best views of the area.
Kiyomizu-dera Temple [map]
Yasugi city, Shimane
Misumi Oohirazakura
Even at night, its illumination is beautiful.
Misumi Oohirazakura [map]
A precious breed of sakura that was designated as a Natural Monument in 1936. The tree is guessed to be around 660 years old with a trunk circumference of 5m and branches that span east to west at 24m and north to south at 29.6m. When in full bloom it is said to be overflowing with brilliance.
Hamada city, Shimane
Washibara-Hachimangu Shrine (Tsuwano)
Check out the horse-back archery festival while you are there!
Washibara-hachimangu Shrine [map] 
Check out our article of the Washibara-hachimangu Shrine and Yabusame Ritual.
Tsuwano town, Shimane
Oki Islands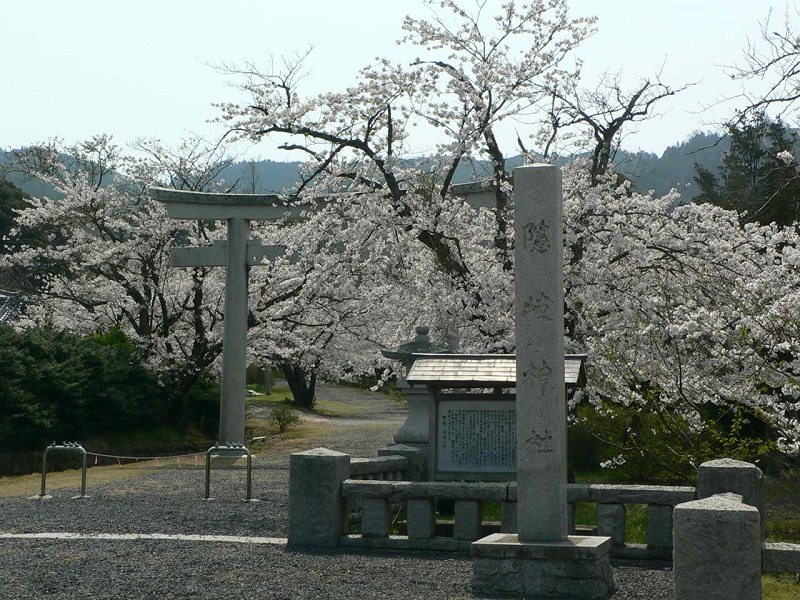 Popular spot on the islands with around 250 cherry blossom trees!
Oki Shrine [map]
Check out our youtube video of our time at the Oki Islands.
Ama town (Oki Islands), Shimane
While planning your trip to Shimane don't forget about our many discounts offered to foreigners and especially our En-Musubi Perfect Ticket!