Ride around Shimane Prefecture with Guide

Guided Cycling Tours

Guided Cycling Tours
Beginners welcome one day cycling tour for anybody, using cycle rental.
A new outdoor activity of Shimane, experience nature and the countryside by cycling.
For the details and the availability of the tours, please refer to their reservation pages.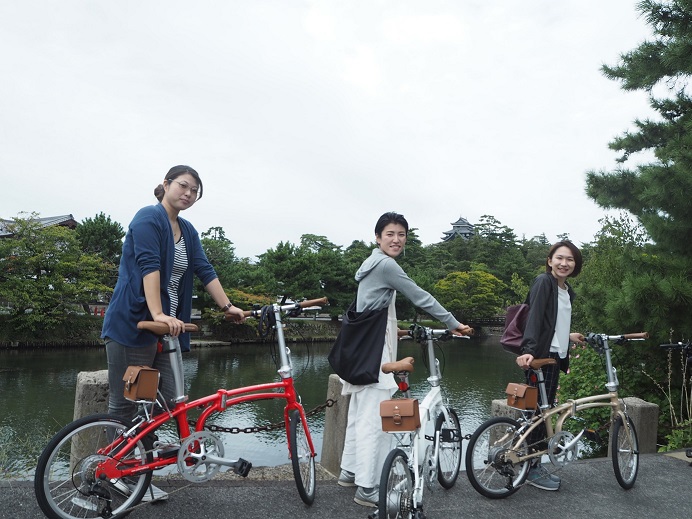 ~ Adding some spice to your trip ~

Guided cycling tours of Matsue, connecting the locals and tourists at the waterfront castle town
TRIP SPICE
1F SUETSUGU, Suetsugucho 5, Matsue City, Shimane Prefecture 〒690-0846
TRIP SPICE is a guided tour that matches tourists and locals in Shimane, the land of Goen "good encounters".
Local guides take you to a tourist area to a minor back street, it is a cycling through the town to enjoy the local culture, gourmet and the scenery.
Enjoy Shimane together!

Regarding booking

All tours need to be booked in advance, check the application deadline for the tour first, then apply by email or from the website.

Please fill in these information below on a booking by email.
• Name of the representative
• Contact detail
• Name of the tour
• Date
• Number of the party
• Options request (if any)

The booking is completed/confirmed by the email reply sent with the content of the application and the detail of the day.

Notes

○Payment is by cash on the day
○Canceled only in case of heavy rain, though we may contact you for a cancellation by 19:00 the day before if bad weather is forecasted.
○What to bring:
• ID of the representative
• Active clothing
• Bag for belongings (no basket on the bicycle )
• Drinks

Cycle Rental

Our tours use electric assisted bicycles, so ones with less physical strength can apply also.

[Bicycle]

Daytona DE01 with electric assistance

A type of sports cycle on small wheels, with stylish design and hybrid bike level cycling comfort.