My Favorite Color of Shimane. – Lake Shinji Sunset –
'Lake Shinji Sunset' – A Stunning Sunset Spot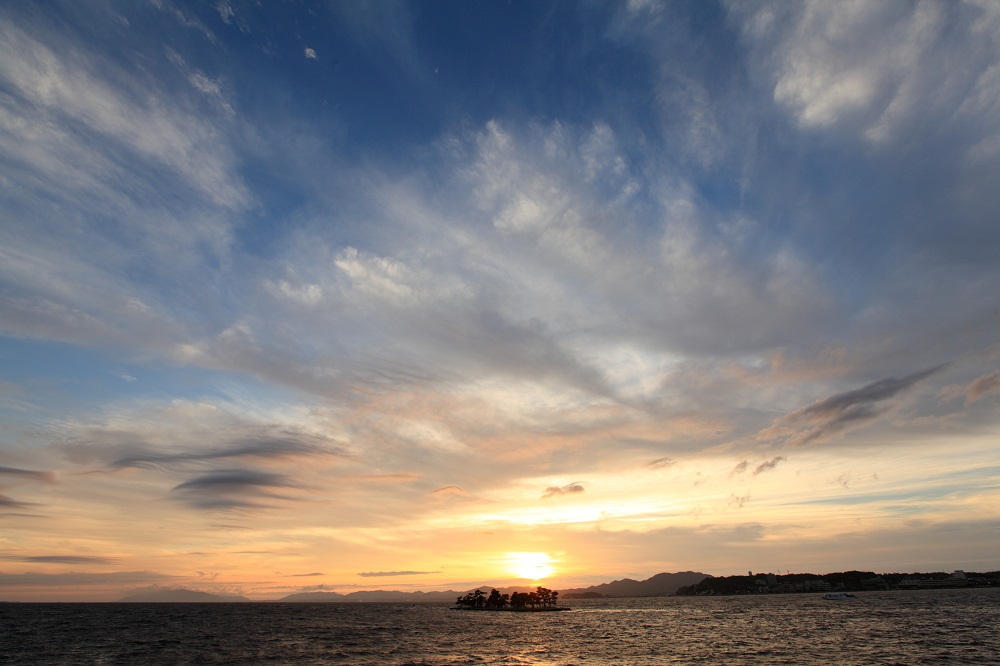 When I heard the theme for this magazine, "Favorite Colors of Shimane," various colors sprung to mind. However, among all of these, I think the best is undoubtedly the sunset of Lake Shinji, one of the most celebrated views in Shimane. This sunset spot is so well known, it was selected as one of the 'Top 100 Sunsets' of Japan. As soon as I arrived in Shimane my close friends told me about this beautiful sunset spot. "Sunsets, huh…" I thought. As city dweller born and raised in Seoul, I never had time for enjoying sunsets in my busy daily life. I became excited at the thought that nature-blessed Shimane, this Shimane, had beautiful sunsets. Moreover, I discovered that this sunset spot is at the Shimane Art Museum not far from where I live, so I drove there right away with my friends. However, it seemed the sun was concealed by clouds because of the bleak weather, so there was nothing else to do but go home and see the beautiful sunset some other time. Whether you can see a sunset depends on the weather at the time, and as the rainy season here begins from June, I didn't quite have the chance to see it.

On the 21st of July we had a weekend of perfect weather. Thinking to myself that I was sure to see the sunset in this weather , I checked the sunset index online. It confirmed that there was a 90% chance!! Great! The day that I would be able to see the beautiful sunset of Lake Shinji had finally arrived. The sun was due to set at 7:20 pm, but thinking that I had better go early to secure a spot, I rode as fast as I could and arrived at the Shimane Art Museum by 6:40 pm. As expected, many people had come to see the sunset thanks to the sunny weather and were seated on the grass outside museum. I felt myself being soothed by the sound of the waves of Lake Shinji as I waited for the moment that the sun would set. Among the lovers, families, and friends that had all come out to see the sunset, I suddenly thought that when I too fall in love, I'd like to bring that person here to see the beautiful sunset.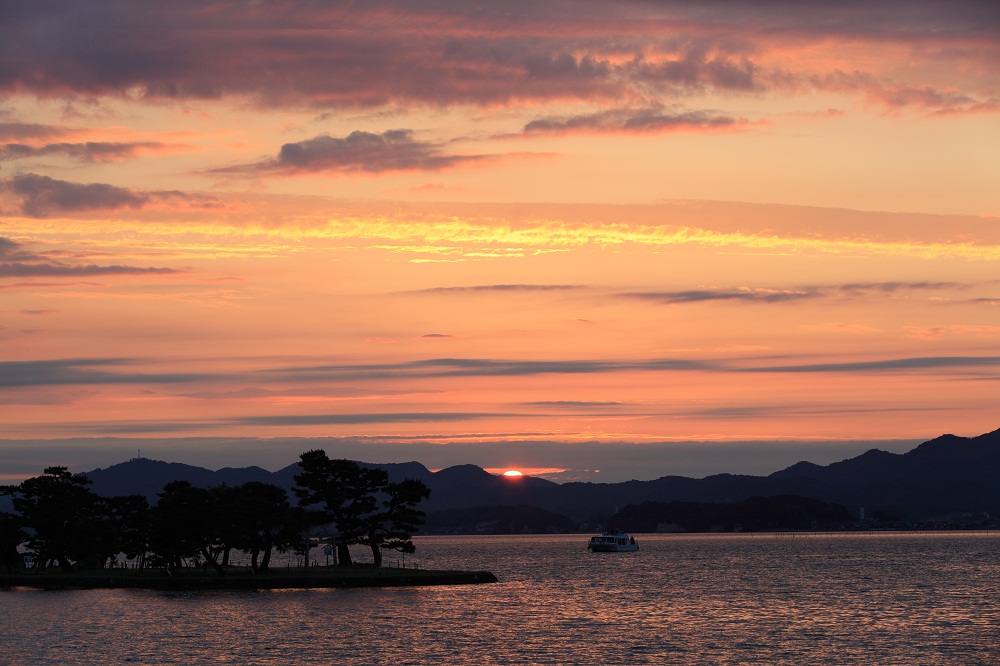 The sun was slowly beginning to turn orange and sundown was surely only moments away. Theare a suddenly became alive with people furiously taking pictures of the sunset to preserve this beautiful moment and happy memories with their loved ones. The sun gradually disappeared beyond the mountain in the distance. Even after it had disappeared, the area was still light with the remaining sunlight. It was only a brief moment, but I was lost for words at such a beautiful sight. On the grass in front of the museum there are twelve rabbit statues in a line facing towards Lake Shinji. If you look closely, the rabbits only have three poses. One with their back legs kicked out, and two with their front legs just landing on the ground. They are arranged alternately to appear in motion. It seems that the second rabbit is the most popular of these twelve rabbits. It is said that if you pet it you will receive happiness. Apparently, it is more effective to face west whilst gently petting the rabbit. I tried it out too, and sitting down facing west, I petted it gently and prayed that I would receive happiness. But then, maybe I had already received it. Because gazing at the beautiful sunset at Lake Shinji I felt full of happiness.
Written by Ms. Park Hyejung
This report has been published in a magazine SHIMANEAN, which was made by CIR(Coordinator for International Relations) living in Shimane, to provide information on Shimane to the world.
Lake Shinji Sunset 
Cruise
Operating hours
 Mar-Nov 9:30~Sunset Cruise (6~7 cruises per day)
Dec – Feb: regular operation on weekends & public holidays, Weekday cruises run only when bookings exceed 9 persons.
Fare
Adult – 1,000 JPY
Elementary school student – 500 JPY