Sunset over Lake Shinji
Lake Shinji, the 7th largest lake in Japan is no wonder Shimane's scenic icon. Its brackish water is the home to a variety of fishes and shellfishes. Among them, small black shell, Shijimi is widely known as the representative of Shimane's delicacies.
What makes Lake Shinji particularly famous should be its sunset view. There are many viewing spots around the lake, including the grounds of the Shimane Art Museum, or along lakefront promenade. You can also enjoy the view from the lake on a pleasure boat, Hakucho ("swan" in Japanese) for sunset cruise.
There are no words to express how breathtaking the sunset view is.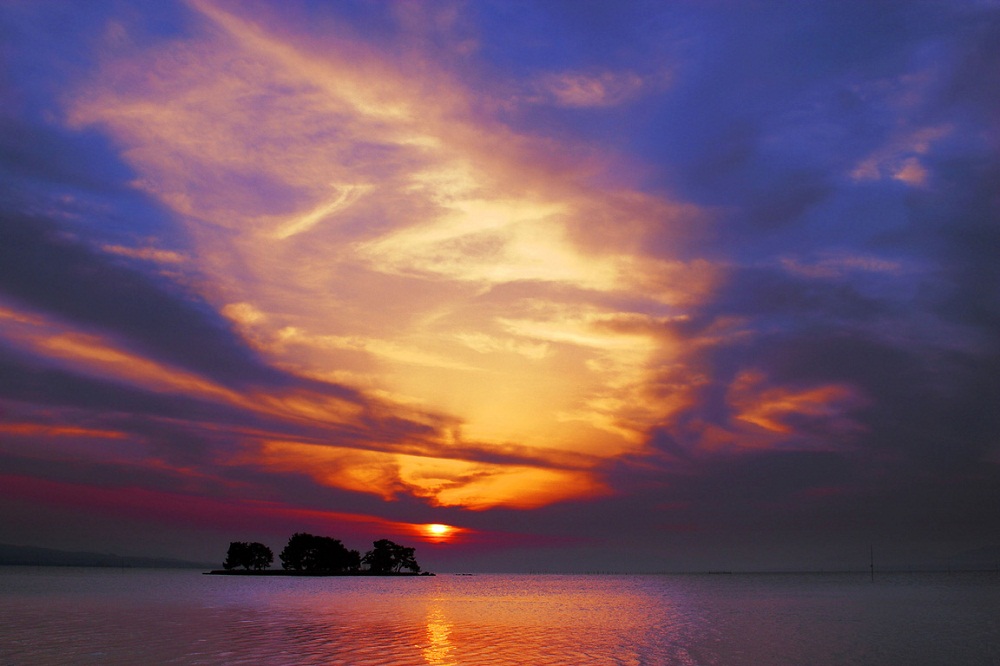 Lake Shinji Sunset Cruise
Enjoy a one hour pleasure cruise to Lake Shinji, one of the highlights of Matsue City, it offers you such a spectacular experience to see the beautiful scenery of the settling sunt.
Why not have the Lake Shinji sunset all to yourself in on-board Special Seating? Experience a complete cruise experience in Matsue, the city of water.
 Operating Hours : 6 or 7 cruises are operated per day during March to November. The sunset time differs by seasons so please ask the 
*During December to February, operations are only on weekends and public holidays. Weekday cruises run only when bookings exceed 9 persons. 
Fare Adult – 1,450 JPY (You can get 30 % discount by showing your passport at the boarding site 1,000 JPY )