Autumn Events in Shimane 2017
Matsue Suitoro
Light up the Castle Town of Matsue
Matsue Suitoro (Matsue Water Lantern Festival) is a light-up event taking place in Matsue, where is known as a water city. During the event, hundreds of lanterns are set up in the castle ground of a National Treasure Matsue Castle. At the night sightseeing boat tour which goes the castle moat  (The night operation is only during the period of this event), visitors can enjoy the fantastic and mysterious atmosphere made by lights in the darkness and the reflections in water. 
Various events, such as music, and arts events also take place mainly in the castle ground.
Venue : Matsue Castle [map] and the surrounding area
Term : September 1st ~ October 31st  2017 (6 pm~9 pm) 
*Events are held mainly on weekends and public holidays
           Main event dates : September 23rd, 24th, 30th  October 1st, 7th, 8th, 9th, 14th, 15th, 21st, 22nd, 28th & 29th
             Horikawa (Castle moat) Night Sightseeing Boat is operated only on the main event dates.
Matsue Grand Tea Ceremony
Experience One of the Best Tea Ceremony Party in Japan
In  a town famous for the rich and long history of Japanese tea culture, the 
Matsue Grand Tea Ceremony
 takes place annually in the beginning of Oct. The ceremony is known as one of the best three tea ceremony parties in Japan, many people come to enjoy one of the Japanese traditions : tea culture. 
Even if you are not a fanciers of 
sado
, it is worth visiting to experience classic Japanese tea and Japanese confectioneries in a classic Japanese castle grounds.
Venue : 
Matsue Castle
 [
map
], Matsue History Museum [
map
] etc. Dates : October 7th and 8th 2017 ( 9 am ~ 3 pm)
 Doburoku Ritual at Saka Shrine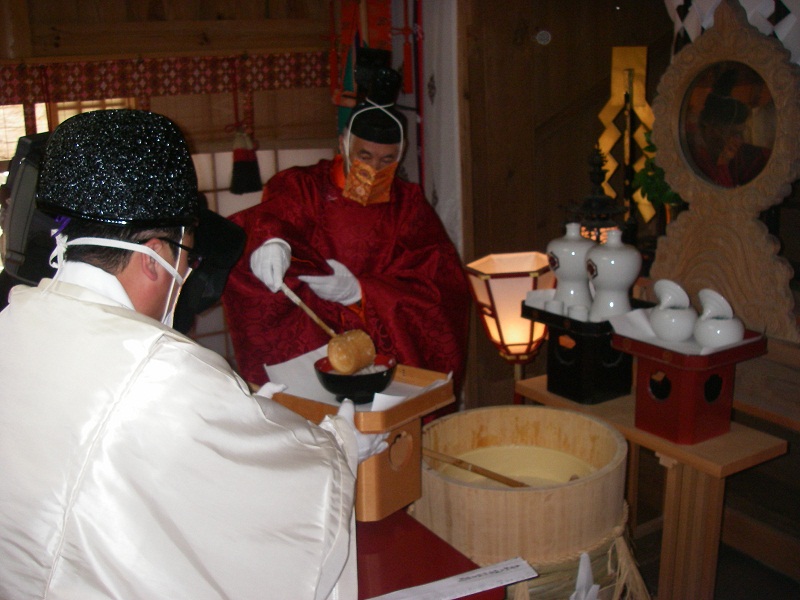 Ritual for the upcoming brewing season
Saka Shrine in the Izumo region enshrines a deity of sake brewery, and its origin goes back to the Japanese Mythology.  On October 13th, one month ahead to the brewing season, an important ritual takes place here.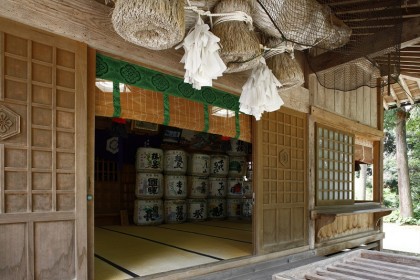 What makes this shrine so special is that it is one of the very rare shrines where is allowed to brewer sake. So people related to sake brewery pay a visit hoping they can make good sake for the upcoming season. And there the brewed Sake called Doburoku is served to not only brewers but also visitors. The brewed sake cannot be taken out of the shrine ground, so take a chance and taste this very rare opportunity.
Venue : Saka Shrine 
Address : 110 Kozakaicho, Izumo, Shimane
 [
map
] Date : October 13th 2017 ( 10 am ~ 9 pm ) *Kagura performance & 
Doburoku service 3:30 pm ~
Tosan-do at Kiyomizudera Temple
Kiyomizu-dera Tosando is a lighting-up event held at Yasugi Kiyomizu-dera Temple in Yasugi City.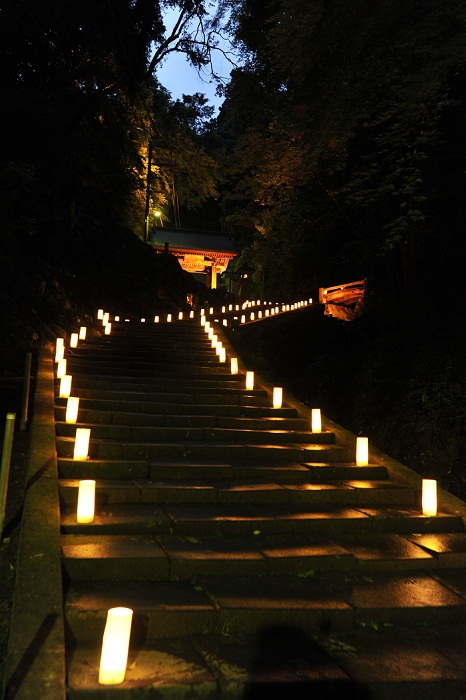 Venue : Kiyomizu-dera Temple [map]
Date : Date : October 14th (Sat.) ~15th (Sun.)  2017  ( 5 pm ~ 8:30 pm ) Access : 10 min by route bus from JR "Yasugi" Station.
Visitors can feel the mysterious atmosphere at a music event held at 'Konpondo hall', which is designated as Important Cultural Property.
 At Seiryo-tei, a Japanese style inn which is located near the temple, welcomes visitors with Japanese foods. Visitors can enjoy supper seeing a pond reflecting the lights.  
Hagi Iwami Airport Marathon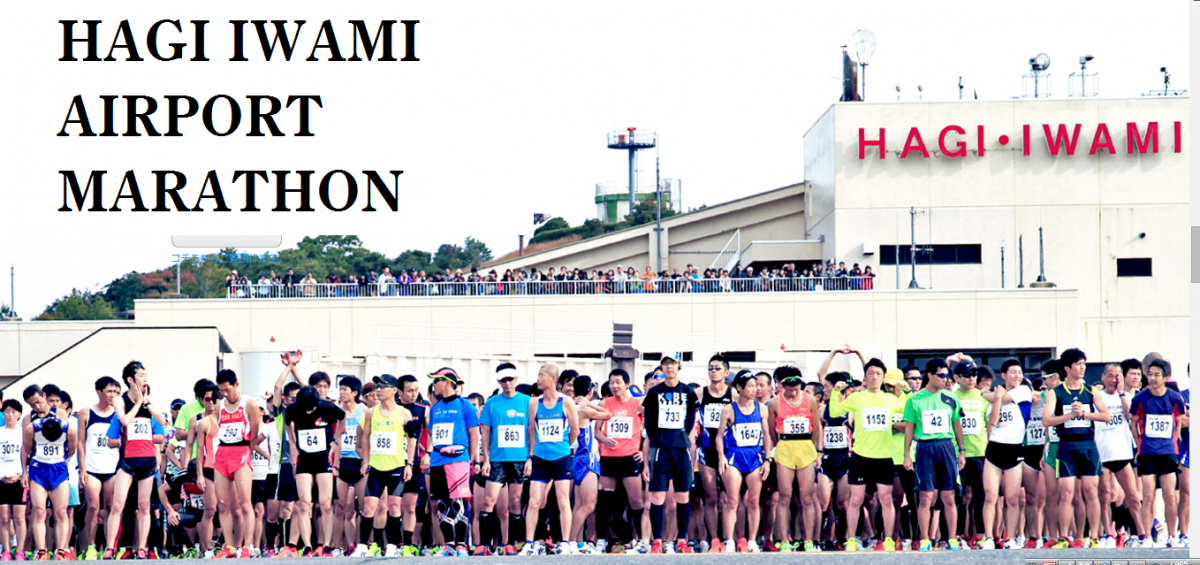 This is the only one marathon event which starts off on an active airport runway. 
There are various courses to be chosen, Half marathon(20km), 10 km, 4km walking course, 2km wheel chair course, and family friendly course, everyone from children to adult can participate. *Need entry fee  
Destination : Hagi-Iwami Airport Address : 597 i Uchida-cho, Masuda, Shimane [map]
Date : October 15th (Sun.) 2017 *Start at 9 am Application Period : May 1st ~ July 31st
Although the participant application deadline has passed, you may still drop by on the 15th and watch runners race in a marathon on the runway of Hagi-Iwami Airport.
Matsue Do-gyoretsu Drum Parade Festival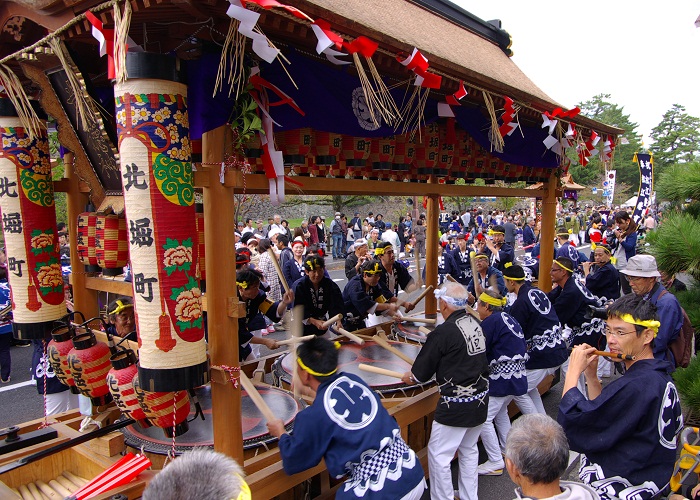 Matsue Do-gyoretsu Drum Parade
 takes place on the third Sunday in October every year in the castle town of Matsue. Large Japanese drums called "Do(鼕)" make dynamic sounds through the city accompanied by bamboo flutes and "Changara" cymbals.  Each float carry two to three drums that are individually 1.2m~1.8m in diameter. There are 15 to 16 such floats gathering at the Otemae of Matsue Castle around noon on the main festival day and they start drum performance! Then the procession starts at 1:30 p.m. and goes through the castle town of Matsue with lively and soul‐stirring rhythms to Shirakata-tenmangu Shrine. 
Venue : Matsue Castle [map] and surrounding area
Date : October 14th (Sat.) ( 7 pm ~ 9 pm ) & 15th (Sun.)  (floats gathering at Otemae at 11:45 am then parade staring at 1:30 pm at Matsue Castle to Shirakata-tenmangu Shrine via Matsue Ohashi Bridge)
2017
Access : (Matsue Castle) 15 min by route bus from JR "Matsue" Sta.
Night light up at Yuushien Garden
Yuushien
in Matsue City is a place where you can enjoy Japanese gardens with seasonal colors. 
During the autumn color season, beautifully organized gardens and autumn colored leaves are lit up gorgeously.
Period :  November 3rd ~ 5th & 11th ~ December 25th 2017 (*except Tuesdays) & January 2nd ~ 8th 2018
Address : 1260-2 Yatsuka-cho Hanyu, Matsue-shi, Shimane
 [
map
]